Was Microsoft's Office 2010 worth killing Clippy?
A real cash cow cloud app
---
When I'm 64
Having said all that, there are some real improvements in Office 2010. This time round, there are Excel Sparklines, for example, single-cell charts that are very effective. The arrival of 64-bit Office is also significant, even though Microsoft is warning most users not to deploy it because of add-in compatibility problems. For most users though, these things in themselves are insufficient to justify an upgrade.
The second major competitor to Office 2010 comes from open source. OpenOffice is free and cross-platform, so why pay? If you need just the essentials of a productivity suite it is a fair question, but a few factors keep users on Microsoft Office. One is document compatibility: keeping up with Microsoft's format changes is hard enough, and introducing a third-party product seems risky.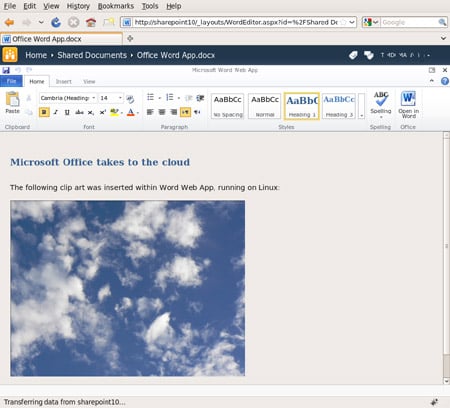 Word 2010 takes to the web, with Office Web Apps
Another is the Microsoft lock-in, with hooks between Windows, Office, SharePoint, and Exchange that inhibit change. Finally, Microsoft Office is familiar, capable, and polished, and even the attraction of free is not enough incentive to change. Just in case though, Microsoft will be offering Office Starter, a basic edition of Office 2010 supported by advertising, though I await a copy to test.
If anything will unsettle Microsoft Office, it it's likely to be the third competitor, the cloud - and especially Google Docs. Office 2010 is Microsoft's first real attempt to match Google's in-browser document editing and collaboration, with Office Web Apps. Enterprises can run these as a SharePoint add-on, though a per-user volume license for Office is required even for Linux users, while small businesses and consumers get access for nothing via Windows Live. Microsoft also has something Google lacks, which is offline use and synchronisation via the new SharePoint WorkSpace.
Although Office Web Apps are underpowered in their first release, if you put them alongside the SharePoint-2010-powered co-authoring and offline features in desktop Office 2010 then you get a strong collaboration platform. The Web Apps also give Microsoft some sort of solution for non-Microsoft mobile devices such as the Apple iPhone or Google Android.
It is this that makes Office 2010 actually interesting, and it will justify an upgrade.
That said, when it comes to the cloud, Windows and Office form what tech publisher and uber-conference organizer Tim O'Reilly calls a strategy tax.
In other words, everything Microsoft does is constrained by the need to sustain its desktop business. So every two years, Microsoft cranks the handle and tries to convince customers to migrate to its latest revamp of Office and SharePoint.
Microsoft has proved it knows how to drive upgrades and how to compete with free. Can negotiate the transition to the cloud using Office 2010 without shrinking its desktop Office business? We'll see. ®