Cowon iAudio V5 HD media player
PMP my ride...
The V5 runs Windows CE 6.0 which may not be the most visually attractive of operating systems but it provides a stable platform for Cowon's fast and fluid UI. The user interface proves that resistive touchscreens don't necessarily have to be less satisfying to use than their capacitive brethren.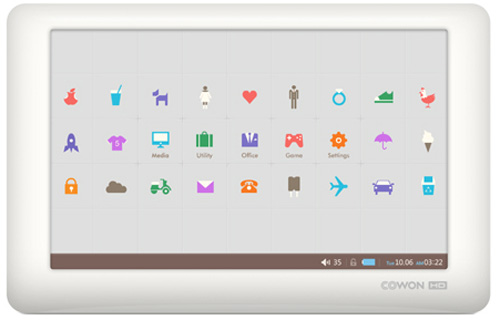 The main menu buttons are finger friendly
The home screen may be a bit too Asian-cutesy for Western tastes - all the icons bar the five central ones do nothing more than provide animated decoration, for example - but the main menu buttons are finger friendly. Some of the lower-level controls are perhaps just a little on the small side but they didn't cause me any problems.
Cowon supplies a paddle-like stylus that attaches to the wrist strap should you require it, but you'll only need it should you go snooping around the Windows CE desktop.
The menu structure is very similar that of the O2, which itself wasn't much more than a touchscreen update of the A3, so things are a little basic and some operations require more touches of the screen than should strictly be necessary.

And if you want to feed it to a horse...
The UI isn't devoid of useful features, though. The tab on the video and audio progress bars makes it very easy to shuttle through long files, while the video bookmark facility is very easy to use. A handy letter M in the top left-hand corner of the screen ensures that the main menu is never more than a single tap away.