Cowon iAudio V5 HD media player
PMP my ride...
Cowon tends not to skimp on file support, and the V5 will play AVI, WMV, ASF, MKV, MPEG 4, DAT, TS, TP, TRP, M2TS, 3GP, DivX, Xvid and H.264 video files along with MP3, WMA, OGG, WAV, ASF, FLAC, TTA, APE, MPC and WavPack audio. It also handles JPEG, BMP, GIF, PNG, TIF and RAW picture files. The only obvious things missing from those lists are QuickTime MOV and AAC.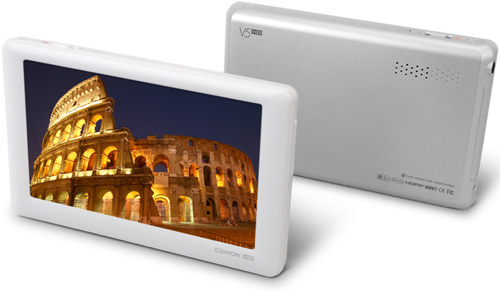 Audio quality is quite simply excellent
If you have a stack of MOV files lying about odds on you already own an iPod Touch, but the absence of support for AAC as a music format rather than a video soundtrack codec is annoying. Video resolutions are supported up to and including 720p HD, and fans of world cinema will be happy to know the V5 also supports SRT subtitle files.
To put the V5 through its paces, I loaded up a 720p H.264 copy of Nightwish's End of an Era concert, kicked back and promptly had my socks blown off. The video was as clear as crystal while the sound was rich, punchy and perfectly balanced. Unplug the headphones and the V5's single speaker doesn't do a bad job either.
The gig continued to look and sound good when I piped the AV feed through a 50in plasma using an HDMI adaptor I happened to find in my magic box of cables.
Music playback quality is quite simply excellent. Cowon's Jet Effect 3.0 and BBE+ acoustic adjustment effects provide a wealth of opportunities to fiddle with the V5's soundscape, and include some new and impressive reverb enhancers.