Cowon iAudio V5 HD media player
PMP my ride...
On the downside, the V5 doesn't support ID3 tags or provide gapless playback. You can't import playlists, though you can set up a single on-board list of favourite files. The V5 doesn't present files stored internally and those on an SD card as a coherent whole. There is no DRM support, so you can forget watching BBC iPlayer downloads.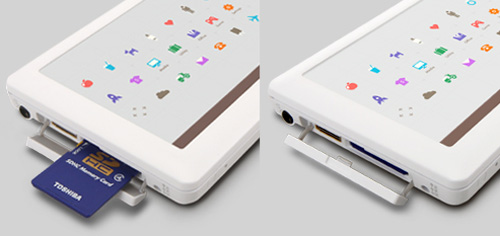 The V5 will take cards of up to 32GB capacity
The V5 is available with either 8, 16 or 32GB of Flash storage, and the SD card slot is good for up to another 32GB. Other features include both voice and AV recording facilities, a world clock, unit converter, calculator, note taking application, document viewer, Flash player and a couple of games.
Cowon reckons a fully charged V5 will pony up 45 hours of music playback or ten of video. The best I managed to get playing an H.264 video in a continuous loop was 8 hours 35 which is still pretty impressive.
The 32GB V5 will set you back £309 while the 16 and 8GB models cost £249 and £219, respectively - not unreasonable when compared to Apple's iPod Touch, which, for £306, comes with 64GB of storage but a much smaller screen. Yes, the Touch has Wi-Fi and a web browser and a host of games and apps but it can't hold a candle to the V5 in terms of video or audio fidelity which is surely the point of a good PMP.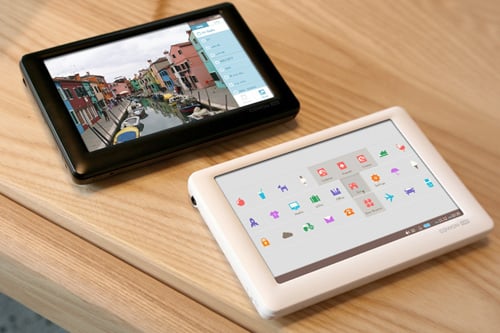 Doesn't matter if it's black or white
Verdict
The V5 isn't cheap but you are getting one heck of a portable media player for your money, one with superb audio performance, great video format support and a superb quality screen. The menu structure is antediluvian and the lack of playlist support irks, but you'll forget about those niggles once you start watching a decent-resolution video. ®
Thanks to Advanced MP3 Players for the review sample.
More Media Player Reviews

Samsung
YP-R1
Archos
5
Sony
Walkman
NWZ-S544
Apple
iPod Touch

Cowon iAudio V5 HD media player
An excellent portable video player that's small, light, and has a decent battery life and a superb 4.8in screen.
Price:
£219 (8GB), £249 (16GB), £309 (32GB) RRP