Salesforce extends 'sympathy' to Microsoft on Office launch
Cloud vendor goes on elephant crusade
A senior EMEA director at Salesforce.com has claimed Microsoft Office "sucks productivity" just as the software giant gears up for the launch of its latest version this afternoon.
Tim Barker declared that Salesforce has no intention of moving into the productivity suite crowd currently occupied by Microsoft.
Barker, who is the firm's product marketing boss for Europe, the Middle East and Asia, told The Register this morning that he wanted to offer his "sympathy" to Microsoft for its efforts to move more prominently into the cloud computing space.
"Office sucks productivity out of people," he claimed, and pointed out that the lack of collaboration in the desktop version of Microsoft's flagship software was bad for business in today's Web2.0rrhea-obsessed world.
Barker opined that Microsoft had arrived late on the scene with its Office Web Apps, which the vendor will begin pumping out to businesses today.
He added that the company had also changed its tune on cloud computing by quietly moving away from talking up its software+services strategy, to what MS boss Steve Ballmer has recently described as "three screens and a cloud".
According to Barker, that shift is acknowledgment by the software giant that cloud computing is where the party's at for the tech industry, which he said was "a good thing" for everyone else, but possibly less so for Microsoft whose customers might accuse the company of abandoning its roots in an effort to compete with Google.
At the same time, Barker said Salesforce.com have no intention, at least for now, of pushing out its own business productivity suite to rival Office 2010.
The cloud vendor recently tied up an important deal with VMware offering a platform for Java developers to deploy their applications to the cloud without needing to buy or provision their own software or servers. All of which made us wonder if some form of collaboration was in the offing with VMWare's recently acquired Zimbra tech, which offers an MS Office alternative to customers.
"We're not looking at that space at all right now," said Barker, who added that Salesforce.com had a tight relationship with Google Apps.
Instead, the Marc Benioff-run outfit is setting its sights on Chatter, which is a bit like Facebook for the business set and includes elements of social networking with worker profiles, status updates as well as connecting with other networks, and links to Salesforce.com products and Google docs, explained Barker.
Which sounds a bit like an outsourced intranet to us. Funnily enough, Barker likened Microsoft's Office Apps to an intranet-like product as well.
He argued that the success of Facebook and indeed Gmail was due in no small part to giving consumers free technology to "collaborate" with each other in the cloud. Microsoft, on the other hand, has missed a trick, turned up late and is now hoping to cash in from organisations that want to bring the Facebook model into business apps.
Of course, Microsoft would argue that Hotmail - its free email service - has been around for donkey's years serving up messages to its millions of users across the globe from what is very much a cloud-based model.
Barker wondered if Redmond might just be spreading itself a little too thinly with its latest sky-gazing ambitions, but MS could yet gatecrash the Google-Salesforce.com love-in.
Elephant in the room pod
Elsewhere on planet Salesforce.com, the do-good wing of the company - Salesforce.com Foundation - has been plugging an online public petition to convince governments to support Asian elephant conservation.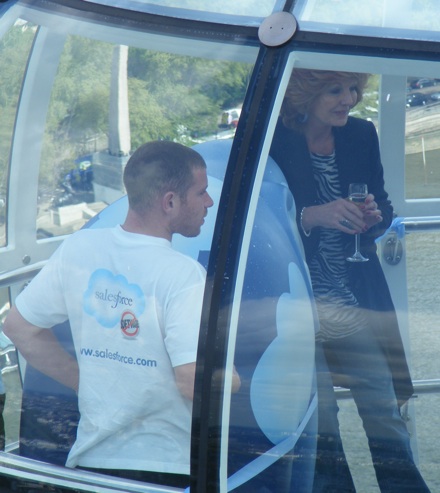 Yes, that is Rula Lenska hanging out on the Eye with a pretend elephant
The firm, in partnership with the Elephant Parade London, plonked a life-sized baby pachyderm sculpture inside a London Eye pod this morning to promote the cause.
This way to show your support, but please don't all stampede at once. ®