Debenhams wows shoppers with free delivery offer
Redefining the online shopping paradigm
Those of you wishing to take advantage of Debenhams' Summer Spectacular 25 per cent off e-commerce consumer frenzy will be delighted to learn that the store is offering an added incentive for punters to flash the plastic on the interwebs: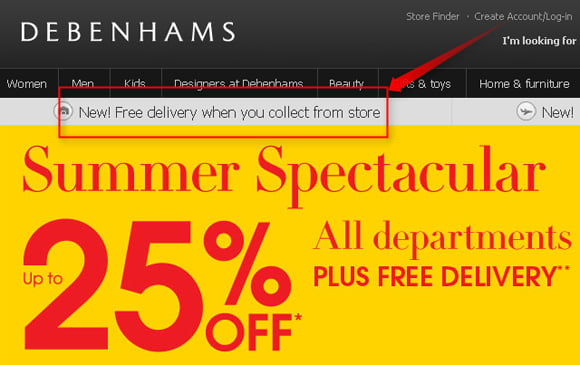 Nice one. Debenhams explains that its "new collect from store delivery option means you can now place an order online at debenhams.com for delivery to your local store within 5 working days" - and you won't be charged a single penny.
So, you've saved yourself the standard £3.99 delivery charge, and just have to physically go to Debenhams to pick up your purchase.
Be aware, though, of the following:
After placing your online order you will need to wait until you receive an email from us informing you that your order is now ready for collection.
To collect your order you must bring your order update email (or order number) and your payment card for customer verification. If someone else is collecting the order on your behalf, they must bring a copy of your update email (or order number) and additional ID in the form of: passport, driving licence, bank card, cheque guarantee card, pension book or proof of age card.
Please note you must collect your order within 14 days of receiving your notification email.
Yes indeed, an entirely effortless process which should prove highly popular. ®
Bootnote
Thanks to Matt White for tip-off.