Google sets sights on the dashboard
General Motors in Android pitch
---
Google is reportedly in talks with General Motors about putting Android into cars, allowing remote unlocking and startup while rendering GM's OnStar product redundant.
Motor Trend, reporting the talks, reckons that last part might prove a sticking point for the companies, as OnStar has been quite a success for GM. But the additional functionality enabled by integrating Android could provide a response to the Microsoft/Ford offering, MyFord, which has proved surprisingly popular.
MyFord uses Microsoft's SYNC technology - basically a Windows Embedded desktop behind the steering wheel. In January the companies added touch controls and announced that MyLincoln would come as standard from next year.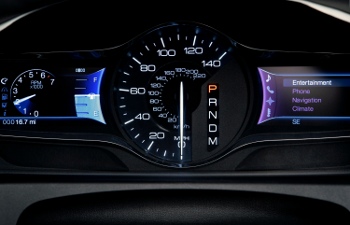 The MyFord electronic dashboard
In addition to the usual information one might want while driving a car, MyFord (MyLincoln, MyMercury etc) can show cover-flow-style music listings and satellite navigation, all with Bluetooth integration. It even has a keyboard port and a web browser - though wisely the last two are only usable when the automatic gearbox is set to park.
What MyFord doesn't have is connectivity - it can operate as a Wi-Fi hotspot but you'll need to fit a USD dongle for the backhaul, and map updates have to be carried out to the car on an SD Card. We can't imagine Google would be interested in such a disconnected model, which is where GM could differentiate itself.
GM already offers wireless connectivity to its cars, though the OnStar service. OnStar is focused on alerting the emergency services in case of an accident, but can also provide directions and comes with a CDMA cellular connection. It's hard to see GM walking away from OnStar, so an Android-powered OnStar+ is more likely.
Car dashboards are the latest battleground for operating system dominance, as demonstrated by RIM's recent acquisition of QNX, which should see Blackberrys slipping behind the wheel.
It makes sense for Android to aim at that space too, and the mind boggles at the amount of data Google could gather if it were allowed free rein inside a car. GM probably won't allow that, but it will be interesting to see how much information drivers will be willing to give up in exchange for an electronic dashboard. ®