Apple has filed a patent to enable info and apps to be automagically loaded onto your iPhone/Pod/Pad based on your location - but exactly how it would affect location-based ads remains fuzzy.
The patent application, "Location Specific Content", was published by the US Patent and Trademark office this Thursday, after originally being filed in November of 2008.
The goal outlined in the filing is to enable mobile devices to take advantage of that mobility by accessing content that's appropriate to their location. "Unlike conventional cumbersome computers, the mobility of [mobile] devices enables applications that provide features based on the mobility of such devices," the filing reads.
As envisioned by the filing, a mobile device could be provided with a URL, webclip or app based on where it is, and then that content could be removed when the device moves away from the location that prompted the provision of that content.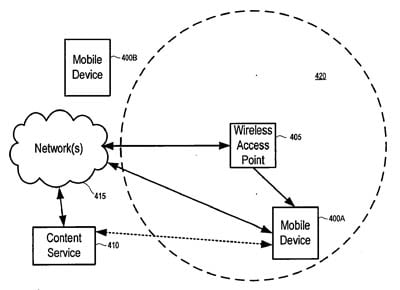 Move inside the 'circle of applicability,' and receive a location-based chunk of content
The user's location could be determined by GPS, cell-tower triangulation, "dead reckoning", or simply by communicating with a local wireless access point. Content could be provided over the device's mobile telecom system, Bluetooth, local Wi-fi, or a direct-connect docking station.
That content could include "video content, picture content, audio content, multimedia content or routing content associated with a geographical area within a proximate distance to the device based on the location information."
The filing gives two examples. First, a user could walk into the public library, and a digital card catalog could be loaded onto that person's handheld. When the book-seeker leaves the library, the catalog would be removed from the device.
While that first example appears to be purely in the public-service domain, the second example moves closer to the realm of advertising. In that example, a restaurant could provide a menu app or URL to a patron, along with a second app that displays the current wait time on an icon. While the user waits, he or she could choose and order their meal from the menu app or browser page. When the user leaves the restaurant, the content disappears.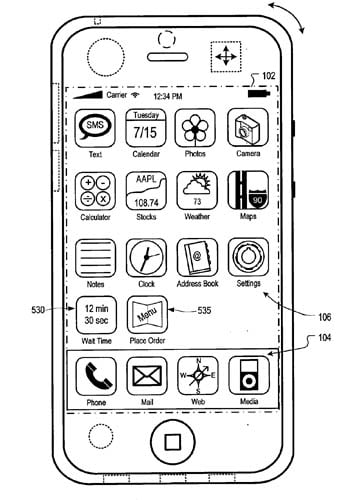 Arrive at a restaurant, and a wait-time icon and menu app will appear on your iPhone
The question as to whether or not the restaurant example might qualify as a location-based ad becomes important due to the USPTO's granting to Google of a patent for "Determining and/or using location information in an ad system," which was awarded this February. Among an assortment of location-information types detailed in this patent is "geolocation targeting information".
In other words, ads based on where you are - whether that information is provided by a stationary "conventional cumbersome computer" or a mobile device.
To be sure, Apple hasn't been idle in this patent field. Last March, the USPTO published Cupertino's application for a "Graphical User Interface with Location-Specific Interface Elements". That filing described a scheme in which location-based, tap-to-buy ads could be displayed on a mobile device after that device identified music, movies, videos, photos, or audiobooks while they were being played or displayed in a bricks-and-mortar store.
But in February - just weeks before Google's patent was granted - Apple banned developers from inserting location-based ads into their iPhone/Pod/Pad apps. It is unknowable whether Cupertino made this move because they wanted to keep that advantage to themselves, or whether they sensed that Google was one month later going to be granted a patent for location-based ad targeting.
We'd send an email to Steve Jobs asking what his motives were, but we can only think that doing so would be a thorough waste of time.
And now Apple is preparing the iAd mobile-ad serving platform for release in iPhone OS 4.0. As helpful such a location-based app as the library card-catalog example above might be, location-based iAds would be infinitely more lucrative for Apple.
And so we foresee a possible patent battle looming when Apple delivers "Location Specific Content" with an advertising component, content that might nudge its way into territory defended by Google's "location information in an ad system" patent. ®