Space shuttle Atlantis lifted off today on its STS-132 mission to the International Space Station - the final flight for the venerable vehicle.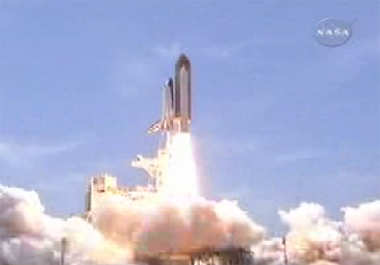 Atlantis departed Kennedy Space Center's Launch Pad 39A at 18:20 GMT, carrying a Russian Mini Research Module (MRM), and replacement parts and spares for the orbiting outpost.
On board for the 12-day excursion are commander Ken Ham, pilot Tony Antonelli, and mission specialists Steve Bowen, Michael Good, Garrett Reisman and Piers Sellers. The mission involves three spacewalks, during which the team will replace six batteries on the port truss which store energy from solar panels on that truss, bolt on a spare space-to-ground Ku-band antenna and attach a new tool platform to Canada's Dextre robotic arm.
The MRM, dubbed Rassvet ("Dawn"), will provide "additional storage space and a new docking port for Russian Soyuz and Progress spacecraft", and also has " important hardware on its exterior including a radiator, airlock and a European robotic arm". It'll be permanently attached to the bottom port of the station's Zarya module.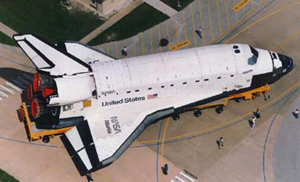 STS-132 is Atlantis's 32nd mission (full shuttle mission archive here). The shuttle - "named after the two-masted boat that served as the primary research vessel for the Woods Hole Oceanographic Institute in Massachusetts from 1930 to 1966" - first flew on 3 October 1985, carrying a classified Department of Defense payload. Its later career included four further Department of Defense flights, as well as carrying aloft planetary probes Magellan and Galileo and the Compton Gamma Ray Observatory.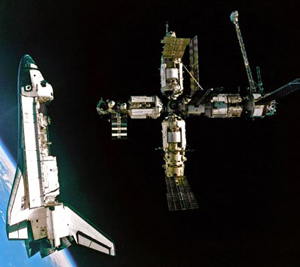 On 27 June, 1995, it blasted off on the first Shuttle-Mir docking expedition (pictured), and in 1996 returned to ferry astronaut Shannon Lucid back to terra firma after her record 188 days in orbit aboard the Russian station.
Atlantis then did sterling work on the ISS assembly and supply programme, punctuated by the final Hubble Space Telescope servicing mission in May 2009.
Commander Ken Ham said of Atlantis's swan song: "If this does turn out to be the last flight of Atlantis*, this is the kind of thing that will hit all of us after we're done with the mission and we realize what part of history we may have played."
There now remain two shuttle missions: Discovery's STS-133, set to launch on 16 September; and Endeavour's STS-134, now knocked back from 29 July to a date "no earlier than mid-November".
NASA has the STS-132 mission summary here (pdf) and press kit here (pdf). ®
Bootnote
* Ham is presumably referring to a possible "STS-135" mission, with Atlantis prepared for launch should the STS-134 crew require rescue. If this proves unnecessary, the shuttle's state of readiness could then justify flying a mission to the ISS. Barack Obama made no mention of extending the shuttle programme beyond the current planned launches when he outlined his future space vision last month.
Similar topics