Samsung NX10
Big sensor hybrid to worry the Micro Four Thirds faithful
---
Review Samsung has upped its game in the camera market with the release of the NX10. It's the company's first ever EVIL (Electronic Viewfinder Interchangeable Lens) model – a hybrid DSLR that takes on the optional lenses compact camera market and directly challenges the successful Micro Four Thirds cameras from Olympus and Panasonic.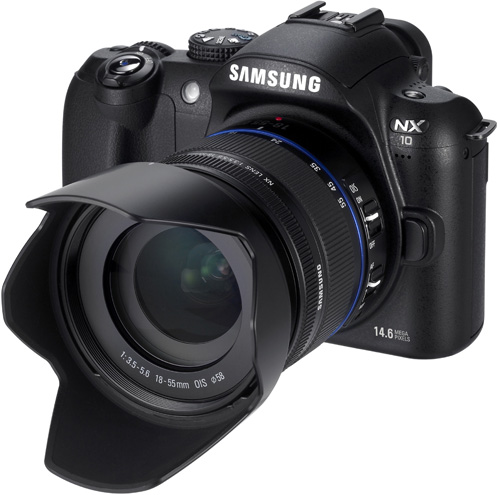 Samsung's NX10: new NX lens mount but adapters from Novoflex are due soon
The NX10 is a 14.6Mp mirror-less compact camera that uses the proprietary NX-mount lens system to combine the flexibility and image quality of a DSLR with the user-friendly experience of a compact. Like the Micro Four Thirds system this camera does away with the pentaprism and the instant return reflex mirror of a typical DSLR to save weight and space, but unlike the Micro Four Thirds it retains the same large APS-C sensor of an entry-level DSLR to deliver better ISO performance.
The NX10 features a high-resolution electronic viewfinder, a 3in AMOLED display, a 247 multi-zone measurement system, fast 15-35 sensor points, integral sensor cleaning system and a pop-up flash. With these specs and a guide price of £600 (with the standard 18-55mm OIS lens) it looks like the NX10 might be the first camera to undermine the market supremacy of the Olympus PEN and the Panasonic GF1.
The simple but stylish plastic body of the NX10 is small at 123 x 87 x 39.8mm and light too, weighing just over 350g. Yet it has a robust, solid feel to it, with a nice rubberised handgrip and thumb rest that give good ergonomic handling. Aside from the odd position of the Menu button to the left of the viewfinder, the layout of commands is logical, balanced and uncluttered. The controls and dials are smooth and firm making accidental changes unlikely.
On the rear there is direct access to features such as Exposure Lock, Exposure Compensation, Display options, Autofocus, White Balance, Metering and ISO. The top plate is dominated by the Shooting Mode dial (Program, Aperture Priority, Shutter Priority, Manual, Scene Mode, Smart Mode, Night, Landscape, Portrait Mode and Video Mode) and a cleverly canted shutter release button.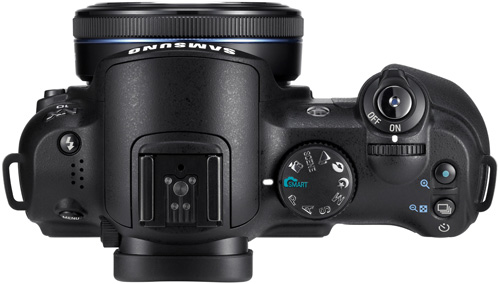 Ergonomically sound
Other direct controls on the top plate include Flash options, Drive Mode and a green dot that is used to reset parameters to the default settings at the touch of a button (the last two also double as zoom in/out buttons in playback).