Review For most of this century, I've evangelised home movie set-ups that put a lightweight, probably Linux-based player in the living room, leaving your multimedia libraries on a server at the other end of your network.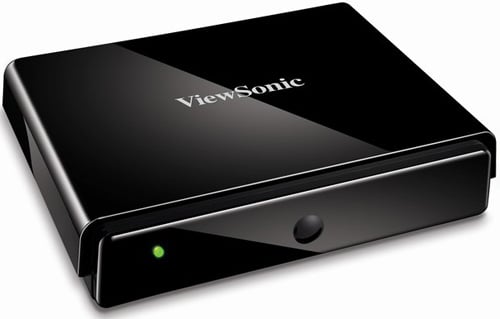 Viewsonic's VMP74: compact casing - but what a lot of codecs it contains
My favorite player has always been the Pinnacle ShowCenter, a pioneering device that lost its way in the market when five years ago Pinnacle fell into the insensitive clutches of the Avid Corporation. The ShowCenter's video decoding capability, alas, stops with the now ageing H.263 (XViD, etc) codecs. To carry me forward into the era of H.264, Viewsonic's new VMP74 might just be the proposition I'm looking for.
While the older generation of players like the ShowCenter tended to favour traditional hi-fi form factors - although this left them filled mostly with air - the VMP74 is less than 30mm in height, around 130mm wide and 100mm deep.
There's no wireless connection, but any device like this that pushes out true HD would probably struggle to suck in 1080p input over the air. My ShowCenter - it maxed out at 720p - was never convincing over 802.11g, so I don't see the Viewsonic's wired-only LAN link as an important limitation.
The huge spectrum of codec specifications is down to the talents of the Sigma Designs SMP8654AD processor. This extraordinary single chip not only decompresses video and audio, with post-processing functions like deinterlacing and deblocking, but also handles the Ethernet and the USB. The VMP74 has a pair of USB connectors at the rear, one of them doubling as an eSata port. And, yes, the Sigma chip takes care of the eSata protocol too.

Good range of ports - but component-video would be handy
Oh, and it also negotiates "a wide variety of Digital Rights Management solutions", which should be reassuring to those of you who are gagging to play content-protected WMV 9 files.