Atlantis spacewalkers Steve Bowen and Garrett Reisman wrapped their first STS-132 mission spacewalk at 19:19 GMT today, having spent seven hours and 25 minutes outside the ISS.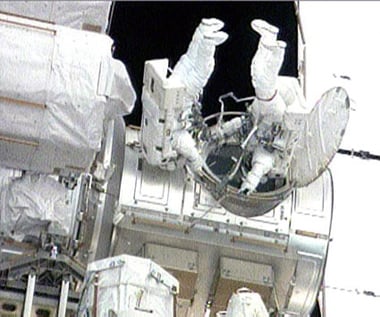 The pair successfully installed a second space-to-ground Ku-band antenna for the orbiting outpost. NASA summarises: "They connected the antenna dish to the boom assembly they installed earlier in the spacewalk. Bowen installed a heat shield around the antenna's electronics box.
"However, a 1 millimeter gap in the interface between the antenna and the boom resulted in the spacewalkers leaving launch locks installed that prevent the antenna dish from rotating and strapped the antenna and boom together to secure the two components."
The astronauts then turned their attention to a new spare parts platform for the robotic Special Purpose Dexterous Manipulator, known to its friends as Dextre. This required no less than "four bolts to secure the platform to the robot".
In further excitement for bolt enthusiasts, Bowen (pictured above on the right as he exited the ISS with his partner), had time to do the some preliminary bolt-loosening in preparation for swapping out six battery units on the station's port truss. The live commentary to the spacewalk suggested that said bolts - securing the new units to the Integrated Cargo Carrier - are removed with a counter-clockwise twist, which will doubtless please bolt traditionalists among the El Reg readership.
The two remaining mission spacewalks are dedicated to replacing these nickel-hydrogen batteries, which have a nominal six-and-a-half year life and are designed for "easy on-orbit replacement". ®
Similar topics