Microsoft Office Mobile 2010 is now available for those using Windows Mobile 6.5: a nice enough upgrade considering it's free, but you wouldn't want to pay for it.
Office Mobile came out as a beta last year, but now is available from the Microsoft Marketplace, bringing SharePoint Workspace and remote control of PowerPoint presentations to Windows Mobile 6.5. But you still can't create new presentations and it won't underline your spelling mistakes in red, so not a desktop replacement just yet.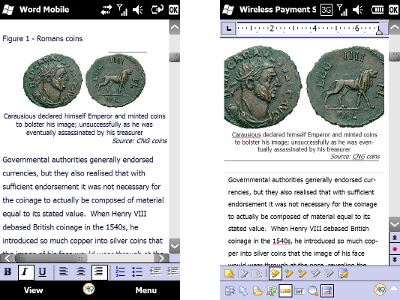 TextMaker on the right: more functionality but at the cost of performance (and money)
Word Mobile is admirably fast, and manages to display most in-line images and embedded content, but compare it to a real word processor (TextMaker from SoftOffice in this case) and the difference is manifest - not only will TextMaker check spelling on the fly, but notice the track-changes/comments ribbon. Such things don't exist in Word Mobile, at least not until Windows Phone 7. Microsoft is pushing the concept hard there, as demonstrated in this video from MobilityDigest:
That video also shows a new interface for SharePoint; the version that comes with Mobile Office 2010 isn't nearly so pretty, but the important functionality is there.
Pocket PowerPoint still won't let you edit presentations, though it will show them, and link up to a desktop to allow the phone to be used as a remote control.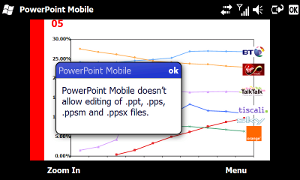 For reviewing your slides, not creating them
Given that Windows Mobile is effectively dead it's surprising to see any kind of upgrade being made available, though we'd hope the majority of the package will end up as part of Windows Phone 7 - just with a prettier interface. ®