Lovefilm's on-demand movie streaming service is now available on Samsung net-connected tellies and not just Sony ones.
The DVD rental company streams a sub-set of its disc catalogue to the TVs free to folk who have subscriptions for an unlimited number of titles each month.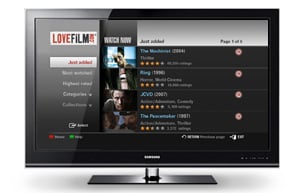 The range will appear as an app in Samsung's Internet@TV interface. Samsung said Lovefilm will appear through Blu-ray Disc players and home cinema sets too, soon.
More details at Lovefilm's website. ®