The iPad, news saviour? Murdoch may have something here
If you buy newspapers, why wouldn't you buy this?
---
iPad diaries Rupert Murdoch, in the face of widespread scepticism, thinks he can charge for news on the internet - but what if he's right? And the dead tree publishers, the derided MSM who initially welcomed the iPad as a potential saviour - what if they were right, too? Even if only a little bit?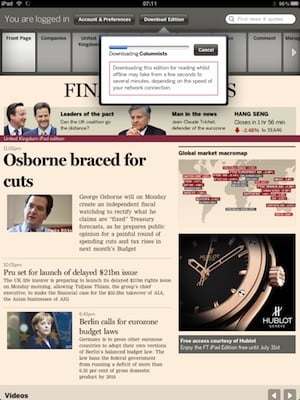 After time spent playing with the iPad I picked up at San Francisco's Stockton Street Apple Store a couple of weeks ago, I begin to think that Rupert might have a point. Whether or not you agree, it seems to me, depends on whether you think that the internet is going to kill off newspapers, or that it's killing off the old ways of producing and consuming news - note that these are actually two different things.
Consider a newspaper as being a daily package of news, comment, humour and reviews that just happens right now to come printed on paper. The paper bit is obviously of limited shelf-life, but what about the package? The internet - as we've been using it over the past few years - certainly isn't fertile ground for crafted and branded news packages; it's harder to retain the interest of the public beyond a couple of stories, and it's easy for readers, once they've read a couple of stories on one site, just to move on to the next one. It's free, it's easy, and the internet's full of helpful links pointing you every which way.
The more doctrinaire view this as a positive process, part of the inexorable march of Web 2.0. As Jeff Jarvis would have it, a news story should be a continuing process, a conversation in which readers participate even prior to publication, and the "link economy" is how people make money out of the internet's balkanised news landscape. The Register has made its disagreement with Jarvis on this and other matters clear in the past, so for the sake of brevity we'll just say that in our view the link economy is somewhere where there's hardly any money, but where people point at one another a lot and call it an economy.