The iPad, news saviour? Murdoch may have something here
If you buy newspapers, why wouldn't you buy this?
---
What makes Rupert mad
Murdoch's beef with Google and the aggregators is important here. In Eric Schmidt's view Google helps news organisations by driving monetisable traffic towards them. Aggregators do a similar job, and it is Jarvis' oft-stated opinion that if they don't make money from this traffic (they don't make much), then this is a failure on the news organisations' part. But Google News and aggregation sites could also be said to degrade publications' ability to monetise. On the web, publications find it a lot harder to offer themselves as complete packages that people will read their way through - Google News and news aggregation sites interpose themselves, becoming destinations in their own right and presenting readers with a menu of items from multiple publications. So you click through to a story that might interest you, but you're not reading a newspaper, just the story, and you quite likely close it once you're finished and go back to Google News to get the next one.
The news organisation can't readily make money from this one story, because it doesn't know much about the reader and their interests, and therefore ad rates for the initial click are likely to be low. They could learn a little more if the reader sticks around and reads other stories, but readers coming from Google News don't seem to convert easily to loyal readers of particular publications.
And your point is? As the revolutionaries would have it, moaning about this is old thinking. It's just the way it is on the web. People read multiple stories from multiple sources because it's free and because they can, attention spans are much shorter, ad rates lower, the world's like that now, and you need to deal with it.
Or just maybe, not.
The packaged news brand rides again?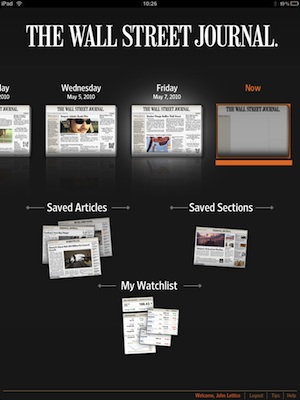 I've tried three iPad newspaper applications so far, the Wall Street Journal the Financial Times, and (swank) Le Monde. The latter was the most basic, and the free trial timed out after one day, so the paper's not exactly busting a gut to evangelise itself on the iPad. The FT and WSJ both seem to have put a fair bit of effort into producing something that's an iPad-based equivalent of a daily newspaper, and the effort seems to me to have been largely successful. The WSJ presents itself like a news stand, giving you access to the issues of the paper you'd previously downloaded (in my case, going back to the beginning of last week), plus a "Now" edition intended to give you breaking news. The FT lets you switch between a "Live" and "Downloaded" edition, doesn't give you access to previously downloaded editions, but does let you get at at least some content from previous days (eg on Monday, what appears to be the whole of the Life and Arts section from Saturday is still available).
In the case of the WSJ I seem to be getting the US-New York edition, which is fair enough given that the iPad is only officially available in the US at the moment. The FT's more of a puzzle, a it seems to be running multiple downloadable editions a day, and the front page stories aren't necessarily the ones you'd expect to show up on the front page of the US edition. Although the FT app is pretty readable and effective, it seems to me it would benefit from making the differences between downloaded and live clearer. Keep changing downloaded, then it's damn nearly live, right? The WSJ's approach of giving you a clearly signalled equivalent of today's paper alongside a rolling update seems to me more logical. But hey guys, until you ship a Europe edition, could you see your way to getting up a couple of hours earlier? The New York downloadable version isn't available until I'm already in the office.