Apple MacBook Pro 15in
Class act
---
As usual, Apple has designed the MagSafe connector in high-gloss, slippery plastic. This makes it very difficult to grip the connector if you have greasy fingertips like mine. In this case, you may end up having to yank the connector away from the computer by its cable because there is no other way. Please stop making slippery plugs, Apple. It's bad enough that you do it with all your iPod connectors.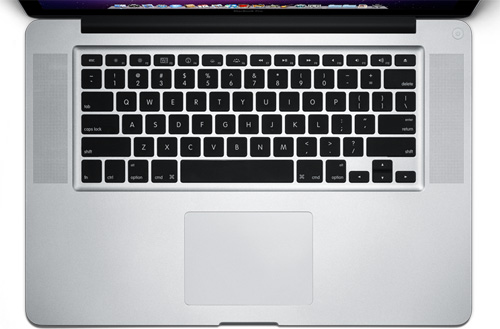 Same sized keyboard as the current desktop models
Talking of power, note that the MacBook Pro 15in never gets as hot as other notebooks. The top surface of the aluminium case stays at room temperature even after hours of use, while the base barely even gets warm. The display remains resolutely cool.
If the shape, size and layout of the keyboard looks familiar, it's because it is exactly the same as Apple's wireless keyboard included with its desktop iMacs and floor-standing Mac Pros. No keys have been doubled up, squeezed or removed, although be aware that there is no numeric keypad, as is the case with the Apple wireless keyboard.
A thumbs up for the backlit keyboard
A sensor built into the unit can be set to monitor the ambient light, causing the white labels on the black keycaps to illuminate. This is a great way of running down the battery faster than necessary but it is a fine feature for those delivering presentations in darkened rooms. Stereo speakers sit on either side of the keyboard. The audio quality is good but limited in bass frequency, and the maximum volume is notably quieter than many other notebooks I have tested.