Atlantis mission specialists Steve Bowen and Michael Good kicked off the second STS-132 mission spacewalk at 10:38 GMT today.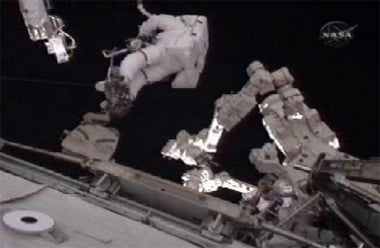 The pair (seen here a few minutes ago) are tasked with swapping out three nickel-hydrogen battery units on the International Space Station's port truss, although the EVA "may be extended to accomplish a fourth battery exchange".
If time permits, the astronauts will also "attempt to tighten the bolts connecting the space-to-ground antenna dish to the boom [assembly], both of which were installed during the first spacewalk".
Bowen and Garrett Reisman had a bit of bother with the Ku band antenna on Monday, when "a 1 millimeter gap in the interface between the antenna and the boom resulted in the spacewalkers leaving launch locks installed that prevent the antenna dish from rotating and strapped the antenna and boom together to secure the two components".
Today's excursion marks "the 238th spacewalk conducted by U.S. astronauts, the 145th in support of space station assembly and maintenance, the fifth for Bowen and the third for Good".
NASA TV has live coverage of the spacewalk here. ®