Mobile sales soar, but numbers are squishy
Motorola #6 or #8 - take your pick
---
Worldwide mobile phone sales are steadily rising, smartphone sales are skyrocketing, and Nokia maintains its lead in both categories. But when you try to dig deeper into the numbers, it all depends on whose numbers you're digging into.
Gartner's latest report says that global handset sales to end users grew to 314.7 million units during the first quarter of 2010, a 17 per cent increase over the same period last year. Gartner also noted that smartphone sales grew to 54.3 million units, a 49 per cent jump.
These numbers are within noise of a report released on Monday by another market-watching firm, iSuppli, which tracks shipments by companies, not sales to end users. They counted sales from recognizable brands to be 288.1 million, and "gray-market handset shipments" to be another 40 million. That'd be 328.1 million, up four per cent from Gartner's numbers, but what a little margin of error among friends?
However, iSuppli's numbers had Sony Ericsson, Research in Motion (BlackBerry), Apple, and the Chinese manufacturer ZTE all overtaking Motorola in the global handset market during the first quarter of 2010 when compared to the same quarter last year. Gartner sees things differently: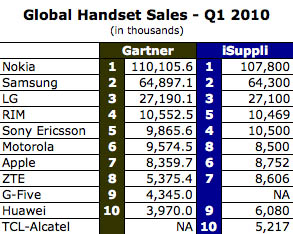 Not that big a difference - unless you're Motorola
In the first quarter of 2009, by comparison, both Gartner and iSuppli had Motorola comfortably in fourth place. Gartner had them selling 16.6 million units that quarter, iSuppli had them selling 14.7. In the first quarter of 2010, however, Gartner demoted Motorola to sixth place, while iSuppli dumped them all the way to eighth.
Smartphone sales reports are equally squishy. For example, when the NPD group reported last week that Android-based smartphones overtook the iPhone in the US during the first quarter of 2010, Apple responded by telling The Loop that those numbers were based on "a very limited report on 150,000 US consumers responding to an online survey."
Then there's the matter of worldwide smartphone stats. The market watchers at Strategy Analytics report that in the first quarter of 2010, the top three global smartphone makers were Nokia, RIM, and Apple. IDC's report had the same ranking, but with different numbers:

Market research - an inexact science
That 0.7 per cent difference in, for example, Nokia's numbers adds up to well under a half-million phones worldwide, so the absolute dollar amounts of error aren't staggering. Well, to you or me they might be, but not to a transnational corporation.
However, if/when you someday read that the iPhone or all Android-based phones taken together have climbed past RIM in worldwide smartphone sales, check the fine print to determine the margin of error that the reporting market-watchers are using. ®
Bootnote
Feeling flush? If so, Strategy Analytics will sell you one report on global smartphone market share and another on handset sales in France, Germany, Italy, Russia, South Africa, Spain, and the UK. Each will set you back $6,999. You gotta love the "999" in those prices - presumably such purchases are impulse buys that might be juiced by such clever marketing. ®