Atlantis mission specialists Steve Bowen and Michael Good wrapped the second STS-132 mission spacewalk at 17:47 GMT today, having spent seven hours and nine minutes outside the International Space Station.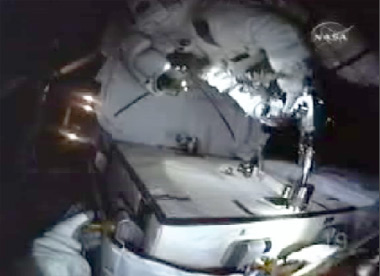 The pair swapped out four of the six nickel-hydrogen battery units targeted for replacement on this mission, bolting* three of the old units onto the Integrated Cargo Carrier for return to Earth (see pic). The fourth was stowed temporarily and will be attached to the ICC on the third spacewalk.
Before getting down to some serious battery bolting, Bowen "adjusted a cable on the end of the orbiter boom". NASA explains: "This brief task was added after discovering early in the flight that the cable was inhibiting a camera from maneuvering correctly. Bowen adjusted the cable and used a plastic tie to hold it in position."
So smoothly did the EVA run, that Bowen and Good had time to conclude their excursion by tightening the bolts holding the spare space-to-ground Ku band antenna dish to the ISS. The antenna was installed on Monday's first spacewalk but a 1mm gap between it and its mounting boom indicated it wasn't properly secured.
With the gap eliminated, the astronauts were able to remove the launch locks which had prevented the antenna from rotating.
On Friday, Good and Garrett Reisman will finish the battery unit installation, and if that goes according to plan will "retrieve a grapple fixture from Atlantis's payload bay and bring it inside the station for use as a spare". ®
Bootnote
* With a clockwise tightening motion, the live footage showed. This confirms earlier evidence that NASA bolts conform to the thread configuration favoured by expert Reg readers.
Similar topics