Self-help guru Tom Robbins and Google co-founder Sergey Brin employed bots of their wetware selves at a San Francisco fundraiser this month, "strutting the room and chatting it up like the rest of us", according to a blogger present.
"People at the event, myself included, were immediately attracted to the robots and loved talking to them," reports an impressed Keith Kleiner. For Keith, it's one step closer to the Singularity - the point at which nerds fantasise that computers and humans merge.
"Telepresence robots are going to be an awesome addition to our technology fueled lives," raved Keith.
From this ecstatic write-up, I imagined that the Virtual Brin would be nothing less than a real robot, controlled remotely from the Chocolate Factory. It would probably look something like C-3PO, but a cuter, Googlier version. Perhaps he might even collect Wi-Fi payload data as he moved around the room, nibbling the canapes. Accidentally, of course.
I was disappointed to discover that the Virtual Wonka was encased in little more than a cheap TV stand with a monitor and a webcam attached. This is about all that $15,000 will buy you, courtesy of new start-ups touting the new telepresence scene.
Anybots Inc is launching its "telepresence" bots later this year. The virtual Sergey was encased in a robot called Texai, a garage operation.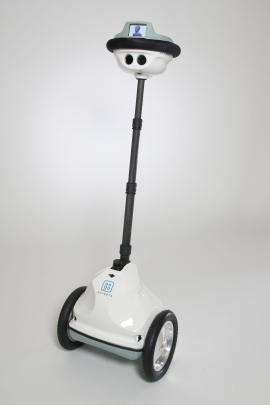 Anybots' model will be much more stylish - looking a bit like a creepy lawnmower. But there are limitations, of course. A virtual Anybot can collect parking tickets, even if you were far from the scene of the crime. And as Keith observes:
"At this point the Texai robot does not even have arms or hands to allow for a more robust human social interaction. Once they have appendages, I could see the future for these robots becoming even more compelling."
Never a truer word written, Keith. And when those appendages can hold lasers, more compelling still.
Anybots is here, and you can see the roving Robbins and Brin chatting up the Singularity nerds here.
So, remote workers of the world, would you let one of these in your office? ®