Britons: iPhone eighth most important invention — ever
Squeaks by toilet, crushes push-up bra
---
In the British mind, the iPhone is a more important invention than the automobile, calendar, or hot water, though not as important as its immediate forebears: the telephone, personal computer and the internet.
A Tesco Mobile survey of 4,000 consumers aged between 18 and 65 placed the iPhone eighth out of 100. As might be guessed - if for no other reason than tradition - the wheel pulled the most votes.
But the iPhone was number one among branded products on the list, followed well behind by the hoover (23) and ibuprofen (32), which are merely brand names that have gone generic.
Strikingly, Britons found the iPhone to be a more important invention than either the flush toilet (9) or toilet paper (22), two items that might arguably be said to have provided more comfort to more people than a Cupertinian smartphone.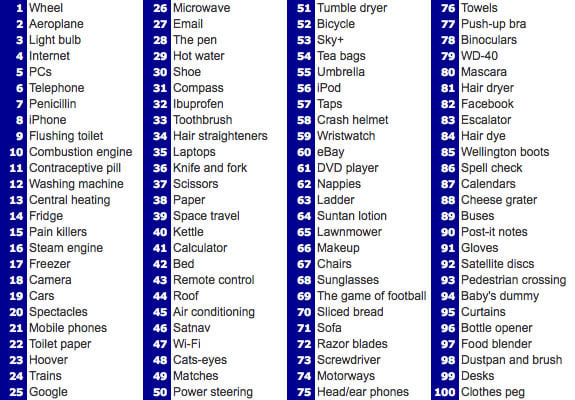 The most-important 100 inventions of all time, as ranked by British consumers
But as Tesco Mobile's chief executive Lance Batchelor mused: "It's amazing to see how much the iPhone is valued, sitting alongside inventions such as Penicillin in people's perceptions and being declared a more important invention than miracle gadgets of their own time, such as the compass."
Britons do love their iPhones. According to AdMob's latest Mobile Metrics Report (pdf), the iPhone's percentage of UK ad-request traffic dwarfed that of its nearest competitor, the HTC Hero, by 70.2 to 4.7 per cent. Of the six countries profiled in the AdMob report - including the US - the UK had by far the highest iPhone penetration.
But the eighth most-important invention of all time? Ahead of spectacles (20), trains (24), the shoe (30), the bed (42), the roof (44), or even the sacred game of football itself (69)?
To put a modern spin on an old saying, the Tesco Mobile survey has shown that Britons consider the iPhone to be far, far, and away the greatest thing since sliced bread (70). ®