This article is more than 1 year old
'World's largest' airship inflated in colossal Alabama cowshed
New NASA ship features hover-slats, water harvesting
The "world's largest airship" - according to its makers - was inflated for the first time yesterday and is undergoing ground tests inside a mighty roofed exhibition hall in Alabama which in normal times offers "the space for 1500 cattle".
The "Bullet 580" ship measures 235 feet long and 65 feet in diameter. It is intended to carry payloads of almost one tonne to altitudes of 20,000 feet on surveying or surveillance missions.
The Bullet design was developed in Canada by a company called 21st Century Airships, spawned by well-known ballooning and airship enthusiast Hokan Colting (he was partnered in the balloon biz with fellow Swede Per Lindstrand - noted aerial daredevil and chum of beardy bizlord Richard Branson - in 1970s Britain). Colting achieved a 20,000-foot-plus airship height record in a spherical 21st-century airship above Alberta in 2003.
The Bullet design, based on a 21st-century flying prototype called Voyager, offers various special sauces compared to a standard helium-filled blimp. Its propelling ducted fans are mounted along the centreline of the hull rather than beneath it, so that the nose doesn't lift when more power is applied.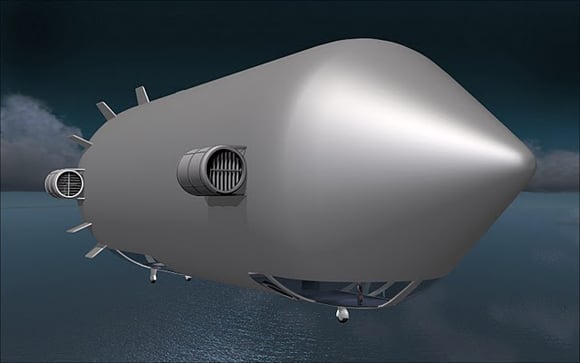 The zeppelin - finally sorted out?
Slats also allow the pilot to control the airflow emitted by the ducted fans, meaning that traditional tailplanes and rudders aren't required - and that the ship can still be controlled even when not moving foward through the air. This is supposed to offer good manoeuvrability even when hovering, and to mean that the large ground handling crews required by normal airships are unnecessary.