Microsoft's floated a key component of its cloud-for-corporations platform, with a code drop of Windows Server AppFabric and BizTalk Server 2010 beta.
Both came as chief executive Steve Ballmer told a CEO event he believes Microsoft is now firing on all cylinders having been late to the cloud and online services, and having taken the "appropriate self corrections".
Ballmer noted that it's key for a CEO to pick the right investments, and dismissed the idea that something new is happening every six months in the internet and Microsoft is missing opportunities.
"There's so much we're passing on, even though we have the broadest [product and technology] footprint out there," Microsoft Watch's Mary-Jo Foley reported he said. You can catch Ballmer's full speech from Microsoft's 2010 CEO summit here.
Following this, Microsoft Thursday delivered its release candidate of Windows Server AppFabric, with final release planned for next month.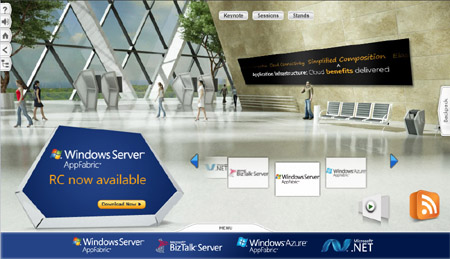 Supreme avatars of business: Microsoft proves it "gets" the cloud
The company said it's "encouraging" users of Windows Server 2008 and Server 2008 R2 Standard and Enterprise editions to download the RC and get ready for June's final release by downloading AppFabric here. Customers with licenses for these server products will get AppFabric at no additional cost.
Ahead of that, the beta of Microsoft's e-business platform BizTalk Server has been integrated with AppFabric, with product planned for the third quarter of this year. You can get the BizTalk beta here.
Microsoft said AppFabric would let developers quickly build composite applications that connect to line-of-business applications via BizTalk Adaptors and BizTalk Transformations
To prove Microsoft "gets" the cloud, the company announced the code using an annoying Second Life–looking environment with webcasts, stuffed customer case studies, and requisite pontification from Gartner on the importance of cloud and how yes, you too, can take advantage of this latest paradigm shift. Or something like that.
The road to AppFabric hasn't been so definitive, though. Announced at Microsoft's Professional Developers Conference (PDC) in November 2009, Windows Server AppFabric was built using previously separate Microsoft web projects folded in to create AppFabric: hosting and in-memory caching from the Dublin and Velocity efforts with the ever-standard .NET and Internet Information Services (IIS). ®