Samsung and Toshiba dominate the NAND flash market, leaving little for anyone else, first quarter revenue figures show.
A ranking of flash suppliers' revenues in US dollars by iSuppli for the first quarter of this year shows Samsung leading the pack with a 38.5 per cent share, closely followed by Toshiba with 33.8 per cent. Put these two together and there's just 27.7 per cent of flash scraps left for everyone else to fight over.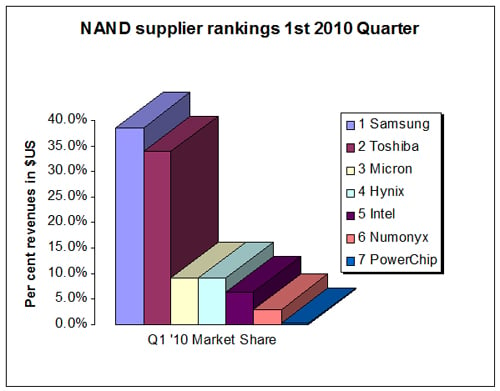 In dollar terms the NAND market was worth $4.36bn in this quarter, so you can work out the supplier's actual revenues. The revenue number for the last 2009 quarter was $4.33bn with a 0.6 per cent increase, which iSuppli says is good news because historically there has been a seasonal decrease in the same period. The NAND market is healthy.
Michael Yang, iSuppli's senior analyst for memory and storage, said: "With the economy on the mend, and demand for electronics on the rise ... demand has been unleashed, leading to strong sales for NAND flash in early 2010. This is mitigating the impact of the normal slowdown following the conclusion of the Christmas and Chinese New Year buying seasons."
Toshiba gained 2.9 per cent market share comparing 2009's last quarter to the first quarter of this year, while Samsung lost 1.3 per cent. Micron and Hynix are in equal third place this quarter, both having 9.1 per cent. Intel is fifth with 6.3 per cent, and then comes Numonyx with a tiny 2.9 per cent followed by PowerChip with 0.1 per cent.
Hynix, Intel and Numonyx all lost share compared to 2009's final quarter. This showing puts Numonyx's phase-change memory flash follow-on technology efforts into perspective - that's where Numonyx' growth prospects are.
Yang said: "While demand for traditional NAND strongholds like flash cards and USB drives started to decline toward the end of the quarter, sales are growing at an outsized rate for consumer electronics products and smart phones. The early success of Apple Inc.'s iPad also portends strong growth for NAND demand in tablets."
If tablets cannibalise netbook sales, and if they follow Apple's lead and use flash instead of small hard drives, then tablet sales could really boost NAND flash use. We might even see larger screen tablets with keyboard and mouse accessories nibbling away at notebook sales. ®
Similar topics