PARIS flashes some radio goodies
Beacon and GPS kit unveiled
It's with great pleasure that the Paper Aircraft Released Into Space (PARIS) team today officially welcome aboard radio man Steve Daniels (callsign G6UIM), who's put together some tasty kit for the project and will be our in-the-field radio operator when launch day arrives.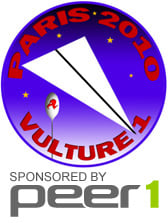 Steve's been building computers since 1979, when he assembled his first UK101 while still at school.
Following an apprenticeship and B-Tec in Electronics, Steve worked on TWT (Travelling Wave Tubes) high power microwave amps, and following his conversion to the world of amateur radio in 1983, started running a radio linked BBS packet system, which he describes as "sort of amateur radio internet, before the internet was publicly available".
Since 1991, Steve's been working with PCs and networks in an educational environment, as well as helping special needs kids.
And since last month, he's been slaving over the PARIS main payload radio beacon and Vulture 1 GPS board. Here's the beacon:

This acts as a back-up for the GPS tracker unit we'll be using to follow and recover the main payload. It transmits PARIS BEACON V1 3.83E VØ 3.85 E in morse and then beeps for 0.5 seconds every 4.5 seconds and after 50 beeps repeats the beacon text.
The parts, supplied by Greg Clark at Big Red Bee, are:
CC1050 transmitter module from Texas Instruments
16LF688 Pic from MICROCHIP
RF3861 amp from RF MicroDevices
4.2V 200mAH Li-Po battery
This is the crucial Vulture 1 GPS unit, which will enable us to track the flight via radio and recover the aircraft:

The parts comprise:
CC1050 transmitter module from Texas Instruments
16LF88 Pic from MICROCHIP
Trimble Lassen IQ GPS module
4.2V 750mAH Li-Po battery
Here's where the transmitted GPS data is captured - Steve's Yaesu FT-817 Multiband Multimode transceiver: