This article is more than 1 year old
Prince of Persia: The Forgotten Sands
Time it's in your hands?
Review Fun fact: the Prince of Persia franchise celebrated its 20th birthday last year, making it one of the most venerable names in videogaming. It transitioned smoothly enough from side-scrolling platformer into the spectacular, button-hammering Tomb Raider-style modern classics of today.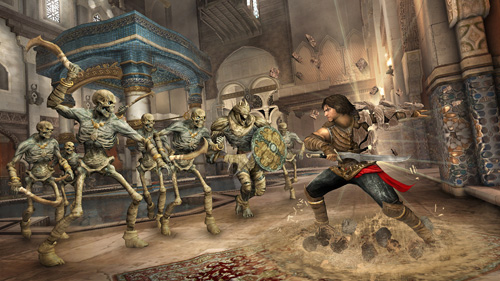 Take this, bonehead!
The Forgotten Sands hinges around the unhappy release of an army of ghoulish demons that once belonged to King Solomon. Solomon's foot soldiers are made from the desert sand, making them effectively limitless, and as the eponymous Prince, it's up to you to battle your way through, helped by some nifty sword moves, an other-worldly guide named Razia, and a waggish disregard for gravity and time.
All the hallmarks of a great Prince of Persia game are here: vast halls filled with spikey traps and massive gears, dozens of skeletal enemies, and tricky platform sections that are gloriously true to Prince of Persia's 2D heritage. You get from one point another by scampering up walls, swinging from conveniently-placed beams and bars, and by leaping from one wall to the other. Only the frequent physical impossibility of the latter and an aversion to cliché prevents us from describing it as parkour.
It looks spectacular. The levels are immaculately designed and realised, helped by excellent lighting effects. Indeed, it looks so realistic you'll soon stop wondering at how good the graphics are, and find yourself engrossed in the story, making it past one obstacle after another, until it's the small hours of the morning.
The plot works well - rather than simply chucking enemies at you to dispatch, judicious use of short cut scenes spell out the whys and wherefores of the story. The voice acting is good, and our only criticism is the Prince's occasional bon mots as he faces down danger with what we can only suppose is meant to be wry humour. As it is you'll occasionally feel like deliberately throwing him into a pit of spikes to shut him up, but it's a minor quibble.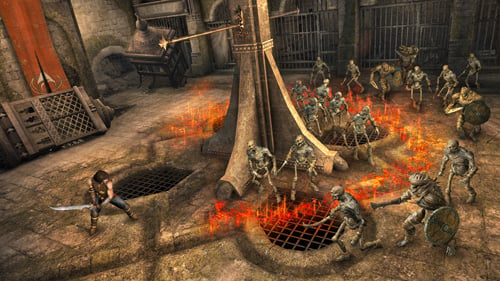 In the line of fire