Prince of Persia: The Forgotten Sands
Time it's in your hands?
Enemies attack spectacularly en masse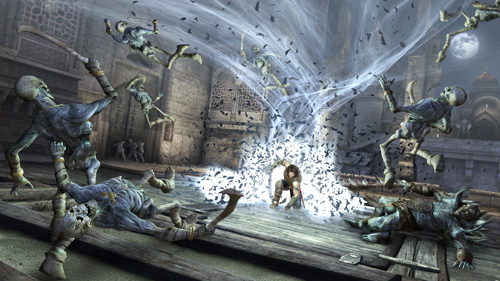 The cold wind ran right through their bones
The animation is sensational. Judging distances and positioning is visceral and satisfying without becoming too easy, and without needing the pixel-perfect positioning that plagued, say, the early Splinter Cell games. Occasionally there's a little too much latitude - it's sometimes embarrassingly hard to fall off high, narrow beams - but by the time you hit the game's tough later levels, there's enough going on to present a serious challenge.
If half The Forgotten Sands is carefully-judged leaping around, the rest is furious combat. Enemies attack spectacularly en masse, often dozens at a time, and although sending them back to the sand doesn't require more calculation than jumping around and tapping the strike button, you can string together some impressive combos. The only complaint is likely to be that the bosses can get repetitive: there's often no clever way to kill them, leaving you to hack furiously at their heels, dodge an attack, then go back and hack some more.
Like earlier Prince of Persia games, you can control time. If you yourself careening towards likely oblivion, you can return to a happier moment, allowing you to attempt tricky sections of the game without returning to the last save point. Combat is made more interesting by the XP enemies leave behind once you've killed them. This can be traded in for new attacks and extended health and energy bars; later, it can be used to make new attacks more devastating.
By far the game's most interesting mechanic is the ability to freeze water temporarily. This makes waterfalls solid enough to scramble up, while burst pipes become high beams. The possibilities are immense, and The Forgotten Sands' developers have taken full advantage. You might find yourself, for instance, swinging from a beam of frozen water.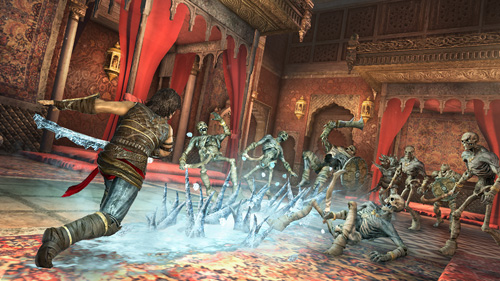 Ice to meet you