Prince of Persia: The Forgotten Sands
Time it's in your hands?
The action is on rails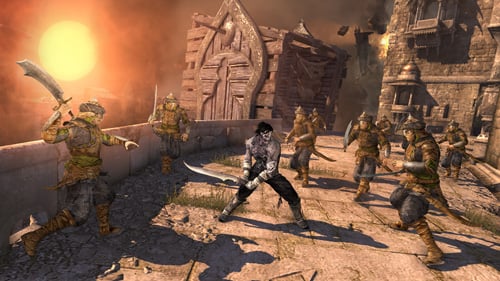 Swinging can be dangerous
In one movement, you might need to jump off, unfreeze the water to pass through a liquid cascade, then freeze everything again to grab another beam on the other side. It works magnificently and the difficulty is carefully-judged: easy enough at first, then knuckle-grindingly hard towards the end. But it's exciting, it's fast-paced, and there's nothing more satisfying than having a spur-of-the-moment plan come together as you flip haphazardly through the air.
The camera doesn't always behave itself. Most of the time it's a straightforward over-the-shoulder affair that Tomb Raider fans will be familiar with. But when there's an obvious course to chart the camera's movement becomes restricted. Most of the time it works well: a gentle prod in the right direction saves you from failing from every conceivable angle. But sometimes it feels like the action is on rails; at other times the camera focuses on the boss you're trying to defeat - a serious annoyance if you'd rather be scouting the area for health packs and XP.
The Forgotten Sands treads a delicate line. At times it's a straightforward button-bashing beat-em-up, at others it's an infuriating platform game of precision timing. You could describe it as derivative: if you've played any of other Prince of Persia games, or Tomb Raider, you'll know roughly what to expect. But it's so well-executed (and huge - easily two days' play from beginning to end), you won't care that it's not a hundred per cent original.
There are more than enough innovative touches to keep you interested, and even if they fail the story is engrossing and the whole thing is magnificently-produced. Everything is tied together by convincing graphics and animation, the voice acting is good and by the end you'll even care how the story pans out. It might not be the freshest-feeling title on the shelves, but when a game is this well-constructed, you'll be having too much fun to care.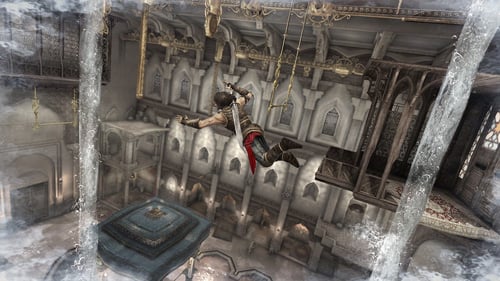 Can I get a rewind?
Verdict
Not hugely original, but great fun. There's a careful balance between furiously slashing at baddies and carefully picking your way through spike-filled deathtraps to keep things from getting monotonous, and it's all strung together by good looks and a strong storyline. ®
More Games Reviews

Lost
Planet 2
Alan
Wake
Dead to Rights:
Retribution
Tom Clancy's
Splinter Cell:
Conviction

Prince of Persia: The Forgotten Sands
A well-made and enormously fun, if not terribly innovative, platform-cum-slash-em-up. Available on Xbox 360 (tested), PS3, Wii and PC