Teac R-4iDNT Wi-Fi/DAB/FM radio and iPod dock
Log on, tune in, dock out
---
Review Despite the UK's proposed analogue radio switch-off at some yet-to-be-decided date, it's fair to say that DAB has hardly been a roaring success. Most digital radio manufacturers hedge their bets and include an FM tuner, while there's a growing trend of adding an Internet connection for accessing thousands of online stations in a handy radio-style device.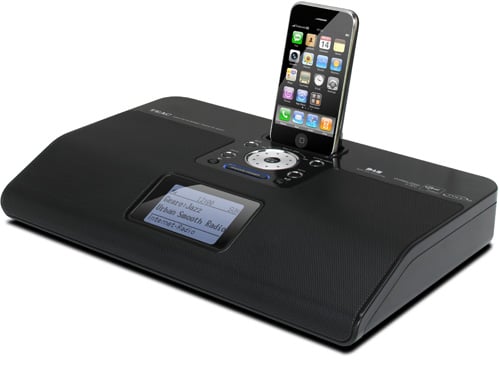 Teac's R-4iDNT: no snazzy colour touchscreens here
The new R-4iDNT from Japanese audio brand Teac is one such hybrid. Reflecting that people will listen to radio from various sources along with a potentially vast music library from an MP3 player or computer, this neat box tunes into FM, DAB, streams from computers and the Internet or simply docks an iPod.
Connections are basic but include the aforementioned socket for iPods (with iPhone compatibility) and a mini-jack auxiliary input. There's Wi-Fi reception plus an Ethernet port for a wired network. Unlike some digital radios, the R-4iDNT lacks built-in flash memory, card slots or a USB port for storage drives, so you can't do any recording or playback this way.
Setting up is easy, with an installation wizard guiding you through the trickier parts, such as wireless networking. Fortunately the Netgear router I was using had a 'Push'n'Connect' button, so I could skip the password, though there are manual options for this and finding networks by name.
The R-4iDNT has dual alarm timers and an illuminated sleep/snooze button, should you want to put it by the bed. When plonked on a tabletop it's only 53mm high but it has a phonebook-sized footprint. If surface space is an issue it can be wall-mounted using two screws.

A simple line-up of sockets including Ethernet in case you don't want to use Wi-Fi
The backlit LCD display sits within a sloping front edge, so it's fine for viewing either way up. However, if you wall-mount then any docked iPod sticks out precariously as if about to make a suicidal jump, possibly in response to your musical taste. The designers should really have put an extra connection at the back or made the dock pivotable.