This article is more than 1 year old
Seagate to announce SSD-threatening hybrid drive
By your powers combined...
Trying for glory a second time, Seagate is very soon to announce a hybrid solid state and spinning disk drive, the Momentus XT, with no operating system dependencies.
It marries a 2.5-inch, 7200 rpm 250, 320 or 500GB, 3Gbit/s SATA hard disk drive (HDD) with a 4GB solid state drive (SSD), presumably a Seagate Pulsar drive, with data cached in the SSD using a so-called Adaptive Memory algorithm. This monitors data transfers to and from the drive, starting when it's first installed and booted up, and copies the most active files and data into the SSD.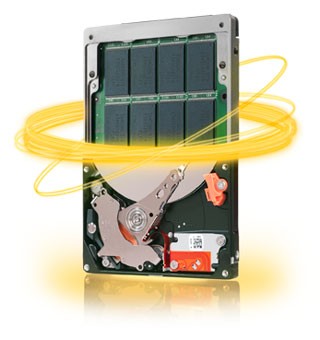 It continually does this and, says Mark Wojtasiak, a Seagate senior product marketing manager: "On the second boot it knows about 80 per cent of your activity and you'll see dramatic increases in the speed of boot, application load and so forth. By the third boot it's nearly 100 per cent there."
Over time as your activity profile changes so do the contents of the SSD. He said that all writes go the hard drive first so that, should the SSD ever fail, the data is still on the drive. The SSD uses single-level cell NAND and Seagate has tested it for five years' worth of use and not seen any loss of performance.
It is a second-level cache as there is a 32MB DRAM cache which, Seagate says, improves write I/O speed with the SSD greatly increasing read I/O speed. The caching operations do not require any support from the host operating system, a requirement which derailed the previous Seagate Momentus PSD drives of 2006 and 2007. They linked a 256MB SSD cache to the spinning disk and relied on Windows Vista making good use of the pair. It didn't.
The pitch then was to save energy - PSD standing for Power Saving Drives. This time around the focus is on performance. How does it do?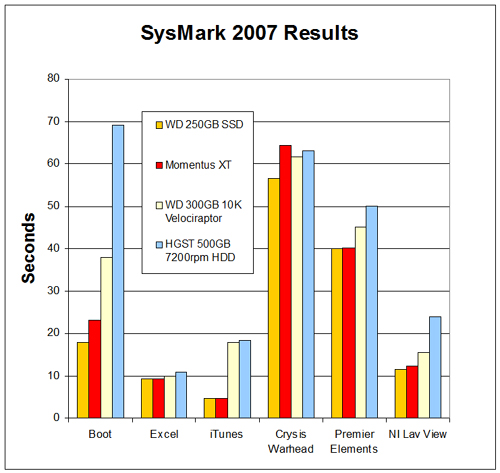 Momentus XT Performance Chart; lower values are better.
Seagate tested the drive on the SysMark 2007 benchmark. The chart shows that, generally, the Momentus XT is within striking distance of SSD performance, and well ahead of raw disk drive performance, both a basic 7200rpm 500GB drive from Hitachi GST and a 10K Velociraptor. Adding up all the times on the tests in the chart, the SSD leads with 140.1 seconds. Next is the Momentus XT with 153.8 seconds, WD's Velociraptor is third with 188.2 seconds and the HGST is fourth with a 7200 rpm drive at 225.6 seconds.
The market aim is to sell the drive into gamers' workstations and high-end notebooks, offering near-SSD performance at much lower prices - a quarter of SSD prices, according to Seagate. ASUS, a Seagate OEM, is to unveil a ROG G73JH system with two Momentus XT drives which should be well-received.
Seagate calculates that a notebook user with 2GB RAM and a 250GB HDD, 5400 or 7200rpm, is best advised to upgrade to 4GB of RAM and the 250GB Momentus XT for the best combination of performance and value, compared to upgrading to a 250GB SSD and/or going to 8GB of RAM.
Toshiba is considering whether to put its own hybrid SSD/HDD product into production.
James Bagley, a senior analyst at Storage Strategies Now, said: "I can see applications in mobile clients like my laptop that only has one drive slot. Using a caching algorithm for hot data, you could get SSD performance and spin the drive only when necessary. I don't see it as an enterprise solution; better to build a hybrid array."
Claus Egge, an independent storage analyst previously at IDC, said: "This is about boosting throughput on a Notebook. Users have certainly enjoyed the speed of SSD in netbooks. So here is a way of similar performance at a better price. Success? I expect certain high-spec machines to ship with this as standard, and lower down as a config option." Desktop users, beset by lengthy Windows and app load times may well look on with envy and hope that Seagate brings out SSD-enhanced Barracudas.
Seagate is also introducing a 750GB, 7200rpm Momentus drive with a 16MB cache and the SATA 3Gbit/s interface.
There is no detailed information on Momentus XT pricing but our quick rule of thumb is to assume a price of about a quarter of WD's 250GB SSD for now. ®