This article is more than 1 year old
Arcam Solo Mini combo hi-fi
Easy on the ear and on the eye
To save space and money, iPod integration is handled by Arcam's irDock, which is also available separately. It's made from a block of cast aluminium and comes with its own diminutive remote control for use when not hooked up to the Solo Mini. The main remote takes care of operations when it's all plumbed in. This will charge your iPod and iPhone and allows the latter to play with the usual warnings of possible interference. In tests this was rarely an issue.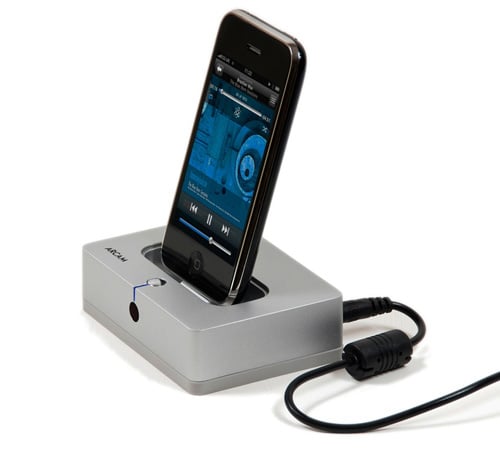 iPhone friendly: the irDock
Around the back are four pairs of stereo inputs, an analogue tape output and a preamp out, as well as an RS232 input (for remote control of your iPod and software updates from a PC) and a pair of full-size stereo speaker outputs. There are also separate aerial inputs for the DAB, FM and AM tuners, although only the DAB has a telescopic aerial provided.
Setting up and using the Solo Mini is pretty much as easy as it could be. With the irDock connected using phono plugs and RS232, tracks are displayed on the LCD screen and with transport and navigation control from the Solo Mini's full-featured remote. The CD slot meanwhile is smooth as silk, drawing discs in with a relaxed confidence rather than the hasty grab some slot-loaders can suffer from.
Onboard tone controls are limited to boosting or limiting treble or bass with no option for more subtle gradients via a graphic equaliser. It conjures a solid stereo image through the supplied bookshelf-style Muso speakers, which feature an eye-catching metallic finish and 3.5in polymer/aluminium cones topped by a 1in aluminium dome tweeter. They have a front-mounted bass port too and proved to be reasonably indifferent to placement, delivering much the same sort of sound whether next to walls or not.
Listening to the Solo Mini in action I was initially impressed by the openness and detail of the sound. Nina Simone's piano and vocal on Nobody's Fault But Mine was spookily transparent, delivering chills and raised hairs on the back of the neck along with an exceptional level of detail. Likewise Miles Davis' So What, his trumpet arriving with a piercing clarity yet never devolved from the rest of the acoustic combo, whose presence remained perfectly balanced throughout.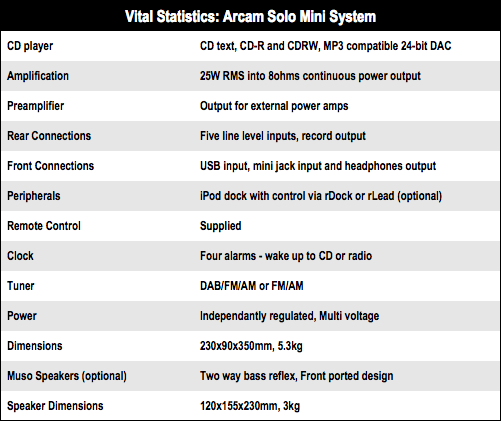 The same was true of Björk's The Pleasure Is All Mine, with the Solo Mini seemingly having no trouble in maintaining the distinction between the multi-layered vocal tracks while still allowing them to gel as a coherent whole. Not every mini system can deliver this kind of detail with such apparent ease.