This article is more than 1 year old
Arcam Solo Mini combo hi-fi
Easy on the ear and on the eye
Not that exceptional detail is always ideal. In fact, there's probably a little more detail at the high end than you really need, which can lead to a smidgeon of harshness on occasion – the bagpipes of modern folk ensemble Breabach needed a little tweaking for example – but that's a small gripe.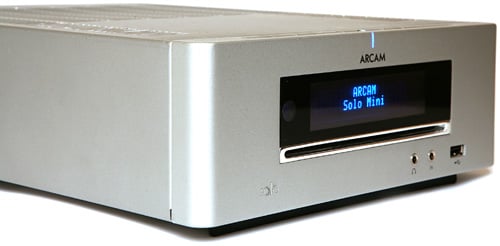 Sonically, offers more than the Muso speakers can deliver
A bigger gripe however was with the bass, since it was at the low end that the two-way Muso speakers showed their limitations. While they generally sounded terrific with acoustic material, they struggled with bass-heavy rock and dance music. Basement Jaxx's Good Luck for instance completely lost its low, low bass tones and proved to be a distinctly lacklustre affair.
So it comes down to a trade-off dependent on your choice of music. A grand for a good-quality, full system isn't a bad deal, but if you know you're going to require some serious bass oomph, then it's worth considering another set of speakers to handle them, even if it means bumping up the price for the Solo Mini on its own.
Verdict
The Solo Mini ticks a lot of boxes in terms of build quality, style and convenience, delivering well above average sound from a pint-sized box for a reasonable price. But if your tastes edge into bass-heavy territory you'd probably be better off with a better pair of speakers than the £280 models it's supplied with. Treat yourself to a decent pair and you should have a genuinely powerful and impressive system. ®
More Audio Gear Reviews…

Altec Lansing
inMotion Compact
Sonos
ZonePlayer S5
B&W
Zeppelin Mini
IntelliTouch
Eos
,

Arcam Solo Mini combo hi-fi
High quality player and amp combo, available as a hi-fi separate or with matching speakers.
Price:
With speakers (£1,000), separates: Solo Mini (£750), Muso speakers (£280), irDock (£120) RRP