This article is more than 1 year old
Atlantis spacewalkers snapped through shuttle windows
Fetching photo reveals classified US space writing tech
Pic NASA has released a fine snap of astronauts Michael Good (left) and Garrett Reisman, caught on camera through the aft flight deck windows of space shuttle Atlantis during last Friday's third STS-132 mission spacewalk at the International Space Station: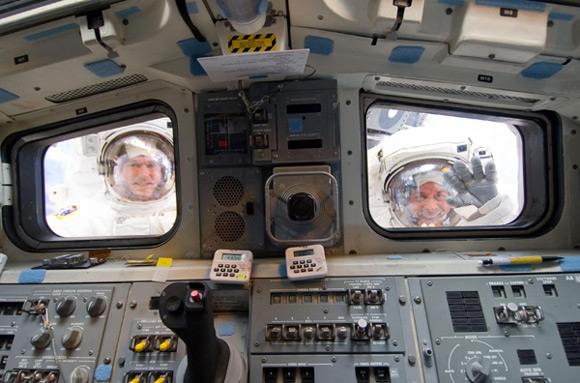 However, the sharp-eyed among you will note that the agency has inadvertently revealed a highly-classified piece of US space kit - what appears to be the very cutting edge of orbital mechanical pencil* technology:

Doubtless this amazing writing implement cost American taxpayers $7bn and took ten years to develop before someone realised they'd have to bodge some Velcro on it with a bit of tape to stop it floating off and blocking the toilet. ®
Bootnote
* Could be a pen, possibly, but we reckon that's a rubber (oh, ok, eraser) on the end. As ever, expert comment on the matter is warmly invited.