NASA telescope gazes into heart and soul of universe
Sees unseeable nebulae and asteroids
---
NASA telescopes have captured stunning images of two star-producing nebulae as their solar winds blow cosmic gas and dust across vast reaches of space more than 6,000 light years from Earth.
The photos were taken by the Wide-field Infrared Survey Explorer, or WISE, space telescope, which was launched in December on an eight-month mission to map the entire sky. Using instruments that are chilled with hydrogen, it's able to gaze more deeply into cold and dusty regions of the universe that emit most of their light at infrared wavelengths.
An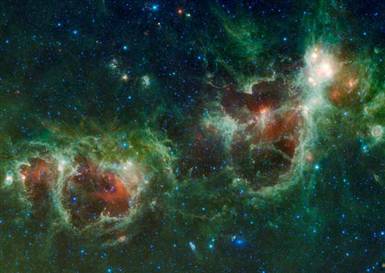 image released Monday at the 216th meeting of the American Astronomical Society in Miami shows the Heart and Soul nebulae as solar winds, gas and dust mix to form new stars. The Soul nebula alone spans more than 150 light-years across in the constellation Cassiopeia.
WISE has also been used to capture images of more than 60,000 asteroids, about 11,000 of which had never been seen before. Most lie in the asteroid belt between the orbits of Mars and Jupiter. WISE has also captured about 50 near-earth objects and discovered four short-period comets, which visit the inner solar system ever few years. Another 22 comets with much longer orbits have also been found.
WISE is scheduled to finish its sky-mapping mission in July. It will then spend the next three months surveying portions of the sky for a second time until its infrared detectors run out of coolant. NASA plans to release the first installment of its WISE catalog in 2011.
More from Space.com and ScienceNews here and here. ®