This article is more than 1 year old
Windows 3.0 turns 20
'Happy Birthday, Apple crusher'
Windows 3.0, arguably Microsoft's first effective graphical user interface, turned 20 this past weekend.
On May 22, 1990, Redmond introduced the 32-bit GUI (not an operating system - Win 3.0 ran on top of DOS), and by doing so, it put the fear of Gates into any Apple fanboi honest enough to see the 16-color writing on the display. Cupertino's dominance of the GUI-based PC market had met its first serious challenger.
And, yes, The Reg remembers the Amiga WorkBench, OS/2, NeXTSTEP, and GEM — we said serious challenger.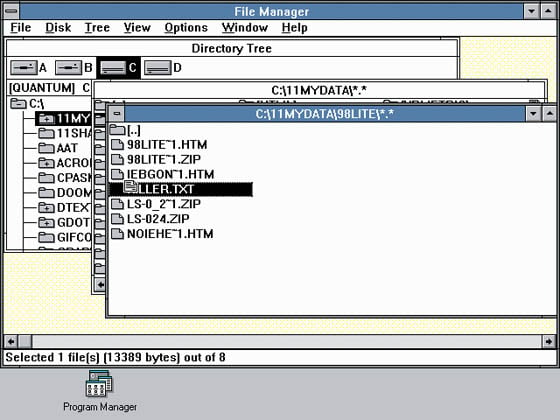 Windows 3.0 File Manager (source: toastytech.com)
Elder PC statesmen will remember the tripartite memory system offered by Windows 3.0 — the only version of Windows to have a three-mode architecture. The most-basic level, Real mode, was intended for use on PCs running older 8086 and 8088 processors. Real mode disappeared in Windows 3.1.
Standard mode was just that — standard — and used when running on the 80286 PCs common at the time. Standard mode could take advantage of memory above the 640KB limit — if the PC supported that capability.
The top level, 386 Enhanced mode, was — as its name suggested — intended for use with Intel's then five-year-old 80386. Taking advantage of that CPU's 32-bit addressing capabilities, 386 Enhanced mode allowed for virtual-memory schemes and improved multitasking. By the wonky, crash-prone standards of the time, 386 Enhanced mode also provided increased stability.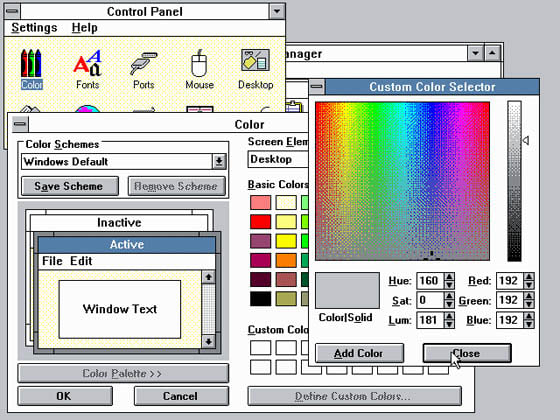 Windows 3.0 Color Control Panel (source: toastytech.com)
Windows 3.0's UI was a notable improvement over that of its progenitors, the woeful Windows 1.x and 2.x. In addition to support for 16 colors, Win 3.0 introduced the icon-based Program Manager and Control Panels, and the list-based File Manager, improving access to and management of files, apps, and system settings.
The similarities of Win 3.0 and the Apple Mac's graphical operating system (then at System 6.0.5) have been endlessly debated and litigated — but such wrangling was mere background noise to the juggernaut that Windows was to become. Milestones in Redmond's increasing dominance included Windows NT ("new technology") 3.1 in 1993, Windows 95 in — you guessed it — 1995, Windows XP in 2001, and Windows 7 last year.
We won't mention Windows Millennium Edition (ME) nor Windows Vista — this is, after all, a "Happy 20th Birthday!" celebration.
But perhaps our focus on Windows 3.0 and what it meant to the future of graphical computing, the fortune of Bill Gates, and the marginalization of Apple is misplaced. Perhaps we should instead be celebrating the greatest good that Windows 3.0 brought to both office workers and home users worldwide: Solitaire. ®