Plug-in pledges to rid web of Justin Bieber
Teen crooner blanked out
Sick to death of Justin Bieber? Help is at hand.
Free Art & Technology (FAT) has launched a new browser application that promises to relieve thousands of internet users from unwanted Bieber references in TwitBook et al.
The Canadian teen idol's popularity has caused so much online irritation that Greg Leuch, a developer from FAT, created the add-on to tackle the issue.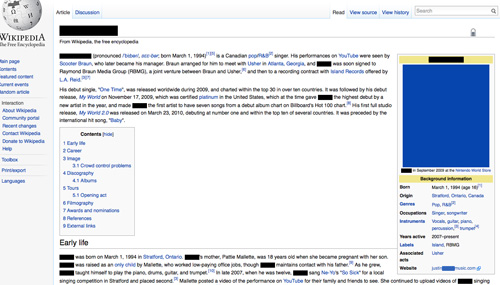 Bieber's Wiki page after being "shaved"
Dubbed the Shaved Bieber tool, the software lets users cut the young singer out of their peripheral vision once and for all.
Saved as a bookmark, or installed as a Firefox plug-in, the application replaces any Bieber mention or image with a censored block, leaving Twitter pages covered with patches like a 16-year-old after his first shave.
But with even minor mentions highlighted by the add-on, there is a worry that Bieber may be brought to your attention even more. However, most of us will take solace in the fact that while he may still be in your mind, his smug smile is no longer in your face. A worthy compromise. ®