Terence Conran slams 'appalling' Olympic mascots
'Symbols of national mediocrity'
LogoWatch Sir Terence Conran has expressed his displeasure at 2012 Olympic mascots Wenlock and Mandeville in a letter to the Times in which he describes the pair as "symbols of national mediocrity".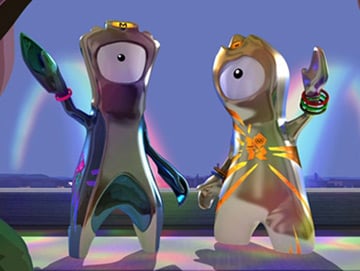 Conran notes that the "appalling" duo "seem to have received their fair share of criticism" - a fair analysis following design critic Stephen Bayley's recent broadside decrying Wenlock and Mandeville as "horrible computer generated Smurfs for the iPhone generation".
Conran explains: "When we won the Games, I wrote to Lord Coe and said I hoped the aesthetic elements of the event would be sensitively handled and we would not have another disaster like the Millennium Dome exhibition."
To avoid complete disaster, Conran suggests consulting "international stars like Lords Rogers or Foster, or the Shanghai super-hero Tom Heatherwick", or even Prince Charles. He asks: "Why not arrange a competition open to students at all the UK's design and art schools?"
The dismayed correspondent concludes: "The sad thing is that the UK is recognised around the world as the leading creative country, but for how much longer with these symbols of national mediocrity? I have a government role as creative business ambassador for the UK; what do I say as I hand out Olympic mascots around the world? Ugh?" ®