Computing smart-scope gunsight for US snipers
Terry Pratchett gizmo makes long shots hit 6 times out of 10
US military boffins are about to produce a field-ready computer gunsight which will let snipers kill people on their first shot from a mile away - even with troublesome winds blowing.
The technical issues facing the so-called "One Shot" project have already been solved using prototype equipment, and it is now planned to produce 15 "fully operational and field hardened" sets of gear for further development trials on the battlefield.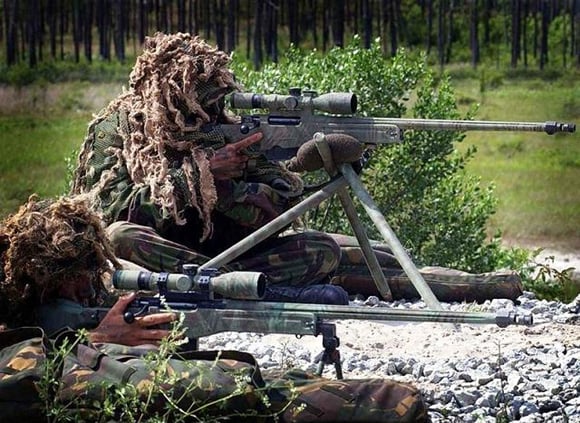 This is how it's done nowadays.
Modern-day sniper rifles can easily throw their bullets across tremendously long distances, but beyond a certain point it becomes impossibly difficult to adjust the aim to allow for atmospheric effects - in particular for the wind. It can also be a time-consuming business allowing for all the changing factors which can affect the path of a bullet's flight - range, temperature, atmospheric pressure, the spin of the projectile itself, the relative heights of the target and shooter.
Thus it is that very long-range hits beyond 2km do get made, but they are rarities. The current combat sniping record is nowadays generally credited to Corporal of Horse* Craig Harrison of the British Army, who hit and killed two Taliban machine-gunners at a distance of 2,474 metres in November last year in as many shots and then destroyed their weapon with a third round. However, he missed several times before getting the necessary corrections nailed down so expertly.
Harrison was able to make these astonishing shots because - in his words - "conditions were perfect, no wind, mild weather, clear visibility".
The previous record-holder, Corporal Rob Furlong of the 3rd battalion, Princess Patricia's Canadian Light Infantry, killed an al-Qaeda gunman at 2,430m in 2002 - but like Harrison took several shots before scoring a hit. Furlong may also have been aided by the thin air high in the Shah-i-Kot valley where he was fighting at the time.