This article is more than 1 year old
Fedora 13 – Linux for Applephobes
Polish without the Ubuntu
Pictures and Python
Until it does, if you want an easy to use but powerful way to calibrate your monitor for any input device such as printers and cameras, Fedora 13 delivers the goods.
Fedora 13 also packs a new photo management tool, Shotwell. Due to size constraints FSpot was never included in past LiveCDs, though it has always been available as a download.
Shotwell gives Fedora a lightweight, out-of-the-box photo management app. While it isn't as full-featured as FSpot, Shotwell is easy to use and will handle your basic photo needs. If you prefer FSpot it's only a click away in Fedora's repositories.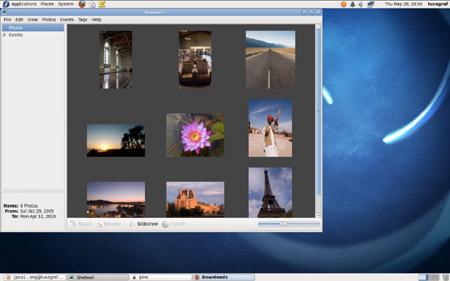 Photo management comes with Shotwell
Fedora includes Firefox 3.6 version with support for HTML5 video, provided the video is encoded using the Ogg Theora video codec. Fedora was among the first to ship the new Theora 1.1, a much-improved version of the open video codec which features video quality on par with proprietary solutions like H.264. If you want support for Google's new open source video format, WebM, you'll need to install a Firefox nightly build.
Other nice features in Fedora 13 include automatic printer driver installation - which means if you plug in a supported printer, the driver is downloaded and installed automatically. It's not the most exciting feature in the release seen, but it does add another "it-just-works" element to the already very user-friendly distro.
Python programmers will be happy to know that Fedora 13 comes with a "parallel-installable" Python 3 environment that will make it easy for those looking to upgrade their code to test in both Python 2.6 and 3.0, without the need to install Python 3.0 from scratch. Once installed, Python 3 can be invoked simply by typing "python3" while "python" will launch the standard Python 2.6.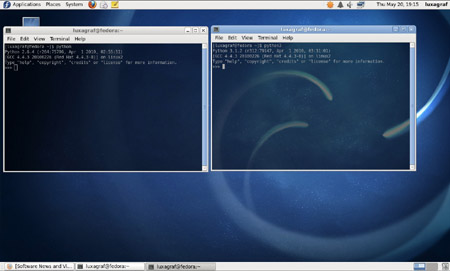 No need to install Python 3.0 from scratch
Fedora's Anaconda installer has also been reworked again, offering what Fedora's release notes call "a simpler workflow for desktop and laptop users." Essentially, there are few options to decipher during the installation process, though most of the old fine-tuning menus are still available to advanced users who want to access them.
Fedora is a somewhat GNOME-biased distro, but there are KDE "spins" as the Fedora project calls them. Fedora 13 ships with KDE 4.4, the latest stable version of KDE. Version 4.4 offers a number of PulseAudio improvements, as well as the new timeline view in the Dolphin file manager and quite a bit more.
Fedora has long had a reputation as the Linux you use when you grow up, when you get more sophisticated, and Fedora 13 is no different. Fedora 13 might eschew the flash of Ubuntu in favor of the more serious, but it still packs some useful, new features and applications while being every bit as easy to use.
If Ubuntu is uncomfortable because it leaves you feeling a bit like you're sharing ideals with Apple, take Fedora 13 for a spin. ®