Chips-for-gold fraud gang get 74 years' jail
Bullion-buying crims on the run
A 21-strong gang of CPU-dealing VAT fraudsters have been sentenced to a total of 74 years in prison.
Reporting restrictions on Operation Devout were lifted today following sentencing in the seventh and final trial related to the complex organised crime network.
The gang were involved in importing CPUs, mainly from Ireland. Using a chain of companies, they sold and resold the kit and issued sham invoices with VAT added on, before re-exporting the kit.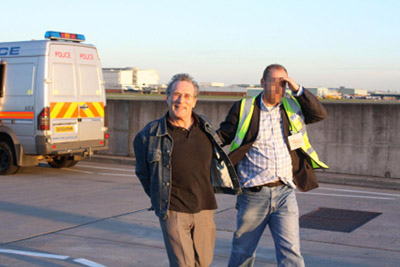 The companies - including one named "Shivani", an anagram of "I vanish" - then claimed VAT credits from HMRC totalling £37.5m to complete a tax scam known as a "missing trader" or carousel fraud. The cash was laundered through UK and foreign bank accounts.
HMRC believes the gang bought a third of a tonne of gold bullion, a "substantial property" in Dubai and a luxury flat near Harrods in Knightsbridge. Investigators are now trying to reclaim the proceeds of the crime.
One of the main players, Timur Mehmet, 37 and formerly of Winchmore Hill in London, received the longest sentence of eight years in the final Operation Devout trial. He was convicted in his absence and is currently on the run. A European arrest warrant has been issued.
Another member of the conspiracy, Christopher Traverse, 68 and formerly of Solihull, also absconded, before being picked up by French police and extradited back to the UK (pictured). He received a two-year sentence - 18 months for the fraud, six for absconding.
HMRC hailed the convictions today. "This was not some kind of victimless crime," said assistant criminal investigations director Adrian Farley, "but organised fraud on a massive scale by criminals masquerading as legitimate businesses all bent on making fast and easy profits at the expense of the British taxpayer."
Computer equipment is popular with missing trader fraudsters because of its high value and relatively small size, meaning it can easily be re-exported unnoticed by customs. ®