Color ebook reader for 200 clams? Yup
Barnes & Noble backing
---
Updated There's a new Android-based e-reader on the block that's set to challenge the Kindle, iPad, Nook et al in price, features, and display quality.
For "display quality", read "color". Pandigital, a San Francisco Bay Area company known for its digital photo frames, has announced the Novel, a combo video/web/email/music/e-reader tablet with a 7-inch, 800-by-600, color TFT LCD touchscreen display.
And for "price", read "cheap". The Novel will run $199.99 when it appears at "several national retailers" sometime next month. Compare that with the least expensive iPad at $499, or the monochrome six-inch Kindle and Barnes & Noble Nook at $259.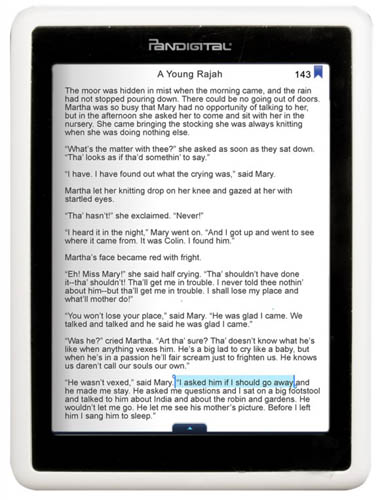 Notice the iPhone/Pod/Pad-like selection scrubbers — patent-fight time, Steve?
And speaking of Barnes & Noble, the Novel also will have access to that megabookseller's eBookstore, which contains over a million ebooks, newspapers, and magazines — and which is also available on the iPhone, iPod touch, iPad, BlackBerry, Mac and PC. It's not available on Amazon's Kindle, for competitive reasons that should be obvious.
"Pandigital Novel users can easily access their existing Barnes & Noble digital content," said bookseller exec Chris Peifer, "and enjoy sharing a wide variety of eBooks with friends through innovative [beta] LendMe technology — whether or not those friends have a dedicated eBook reader." LendMe allows you to pass an ebook off to a friend or colleague for up to two weeks, although — just like a physical book — you don't have access to it while the other person is borrowing it.
Despite its name, the Novel isn't merely an EPUB and PDF e-reader. It has 802.11 b/g/n Wi-Fi for email and web browsing (a virtual touchscreen keyboard is provided), plays music and video and displays photos. Other apps include an alarm clock and a calendar. Files can be transferred to Mac or PC over a mini-USB port.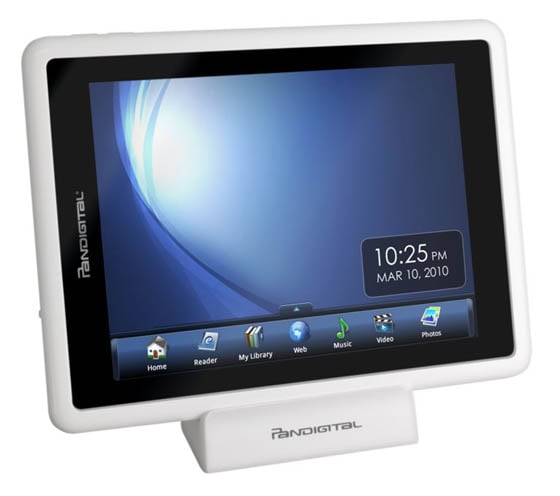 Use the included stand for video watching and alarm clocking
Built-in storage is a measly 1GB, but there's a SD/MMC slot that will accept cards of up to 32GB. The whole shebang weighs one pound (0.45kg), and Pandigital claims that battery life is up to six hours when reading. Undoubtedly, it's noticeably shorter when performing such CPU-intensive tasks as watching video. That CPU, by the way, is the tried-and-true ARM11.
Normally, we wouldn't be all that interested in yet another addition to the growing ranks of e-readers, but Pandigital's partnership with Barnes & Noble earns the Novel a second look. But until we can get our hands on one, we can only look at its specs.
And from those specifications we see a device that — on paper, at least — appears to be worth its low price. It won't be as easy to read in the sun as a Kindle or Nook, but it does have a reverse-image mode for night reading, while the Kindle and Nook get more difficult to read after the sun goes down. Also, the Novel can switch between portrait and landscape mode, a trick neither the Kindle nor the Nook are capable of.
Pandigital didn't get back to us with answers to our questions as to whether the touchscreen display is of the less-responsive resistive type or the more-responsive capacitive type used in, for example, the iPad, and whether the TFT LCD uses either IPS or AFFS technology to improve viewing angles. But at $199.99 we're going to assume resistive and no IPS or AFFS until we learn otherwise.
Battery life isn't great, especially when compared with the Kindle and Nook, which can run seemingly forever without recharging. But it's more colorful and versatile than those dedicated monochrome e-readers, and at a price point so low that it's almost an impulse buy for the gadget-crazed.
If, that is, it lives up to its specs. ®
Update
On Tuesday, a Pandigital spokeswoman confirmed that the Novel's display is, indeed, resistive, and that it employs neither IPS nor AFFS technology.