Toshiba takes cover off waterproof camcorder
Shoot while you swim
Toshiba has introduced its first camcorder capable of taking a dip and capturing 1080p footage while it's at it.
The Camileo BW10 can take still snaps to, at up to 5Mp. It has a 10x digital zoom that works on both still and video modes. Snaps and such are stored on SD cards of up to 64GB capacity.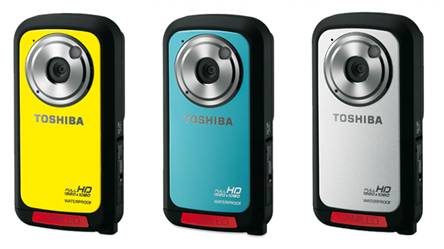 The 22 x 107 x 55mm, 114g BW10 can be taken down to a depth of at least 2m, but that's the limit of Toshiba's warranty - go any deeper and you're on your own if it springs a leak.
Rushes can be viewed on the BW10's 2in LCD then presented to all and sundry on an HDTV through the camera's HDMI port. Connect it to a computer and it will upload video to YouTube.
The Camileo BW10 goes on sale at end of June 2010 for around £130. ®