This article is more than 1 year old
Vexia Econav 480 satnav
GPS for treehuggers?
Review Arguably there's been nothing really innovative in satnav for some time. But the Econav 480 claims to be able to help you save fuel and the environment by telling you how to drive in a fuel efficient way while getting you from A to B.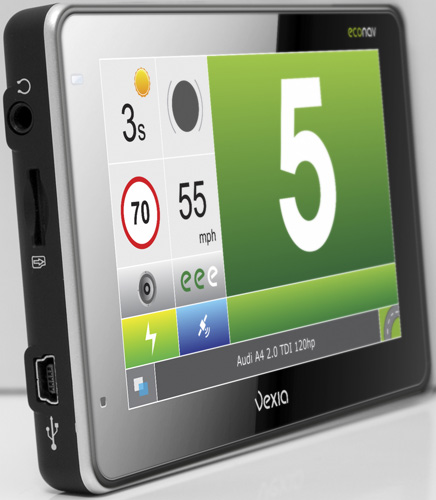 The Green Economy: Vexia's Econav 480
It does this by comparing your driving with what it knows is the optimum driving practice for your vehicle. It tells you when to change gear, alerts you when your driving exhibits excessive braking and acceleration, and produces stats to show how you improve over time. The vendors reckon that using Econav can reduce your CO2 emissions by up to 30 per cent.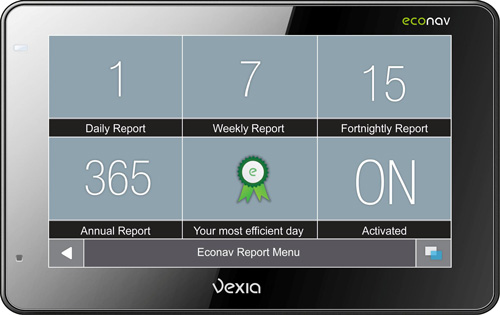 Keeps a record of your motoring efficiency
The Econav's 4.3in screen is quite sharp and bright. There is an on/off button on the top edge, a micro SD card slot, mini USB connector and 3.5mm headset jack on the left edge. The windshield mount is solid and dependable. The screen is touch sensitive and a small stylus lives in a housing on the Econav's casing. I can't see it taking the place of a finger very often, to be honest but it is there if you want it.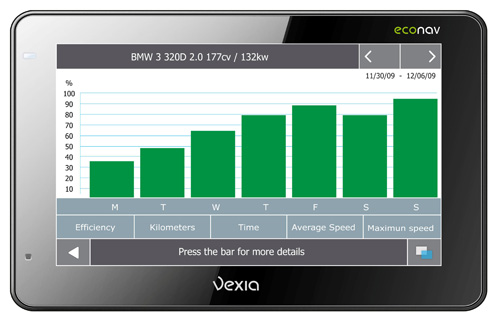 A weekly view of your motoring eco stats
Setting up trips follows the usual patterns. If you know the postcode just enter it, but there's no house number accuracy using that method. Alternatively enter a location narrowing down from what the software calls a city but which can actually be a London borough, town, or somewhere smaller. To get somewhere useful in a town you don't know, you can opt to search for a parking location, hotel, health location, entertainment spot or other Point of Interest.