This article is more than 1 year old
Vexia Econav 480 satnav
GPS for treehuggers?
Actually driving with the Econav does mean you have to fight some old habits. The gear change timings are not always in sync with the natural flow when working through the gearbox. Upward prompts will sometimes occur a moment later than you'd instinctively change, particularly when pulling away. Whereas changing down or low speed driving, the Econav may suggest you remain in a lower gear for longer than you might otherwise choose.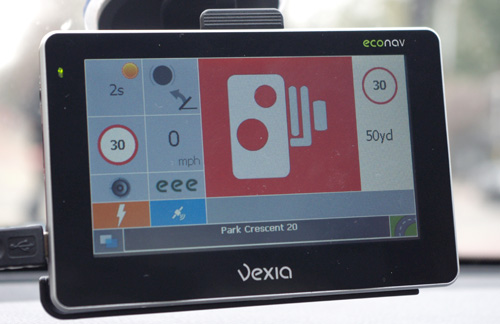 Speed cameras plus those at traffic lights, box junctions and the like are flagged up
As for the visual feedback, the obvious problem with having the main Econav screen in view all the time is that is that you can't see the more usual driving view. That's fine all the time the spoken instructions are clear. But I had a couple of occasions when the device did not say what to do at junctions. Prodding at the screen to switch views is not advisable at the best of times, and the Econav is a bit slow to switch display modes. Add in that the screen doesn't always register finger taps and this can be panic-inducing.
An alternative is to have a mini Econav bar on view as part of the more usual turn-by-turn screen. This provides enough information for glancing at without obscuring the turn by turn data.
Verdict
It is impossible to say how well the Econav performs over time on the basis of a test period of just a few days. It can, presumably, only improve driving efficiency if you implement its advice and this needs to happen over a period of months. However it does seem to offer good advice on smooth acceleration and braking and on using the appropriate gear.
As for its general turn by turn work, there are some rough edges such as its inability to give instruction at some junctions. And I'd like a more responsive touchscreen too. But the idea is a sound one, and it'll be interesting to see how the Econav concept develops. ®
More Satnav Reviews...

TomTom
Go 550 Live
Garmin
Nüvi 1340T
Nokia
N97 Mini
Coyote Systems
Mini Coyote

Vexia Econav 480 satnav
A satnav device which claims to help you improve driving efficiency saving money and the environment.
Price:
UK/Ireland maps (£180), Europe maps (£210) RRP