Microsoft Tag is out of beta, with Redmond claiming companies are dying to start making use of the format.
Microsoft Tags are prettier than QR (Quick Response) Codes, being in colour, but embody much the same functionality being linked to a phone number, URL or plain text - though a Microsoft Tag can also contain a vCard. Tags are read using an on-phone application available for all the popular smartphone platforms.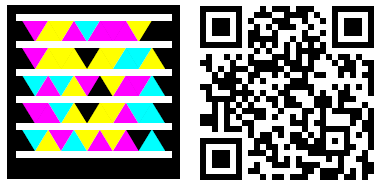 That which we call the Reg by any other Tag would smell as sweet
A QR Code can only store 250 characters of plain text while Microsoft's Tag can manage a little more, though it's hard to see that as significant. Microsoft boasts that its Tags are more open to customisation, overlaying coloured points onto pictures for example, but to our eyes that just makes them harder to recognise.
The real difference between a QR Code and a Microsoft Tag is what happens after they've been scanned.
While a QR Code might contain a URL, and the reader might trigger a web browser to visit that URL, a Microsoft Tag requires the reader to contact Microsoft for further instructions, putting Redmond in control:
"The Tag system has built-in reporting to let you know how your Tags are being scanned... All Tags report back to a single source, ensuring a high consistency in user experience across multiple devices and platform type."
So you know that the Tag has been scanned, and you should even be able to change the destination of a deployed Tag, as long as you're happy with Microsoft intercepting every scan. ®