ISPs told to keep filesharer naughty list
Ofcom confirms Hull as freetard capital
---
The details of internet users who are accused of unlawful filesharing three times will be recorded on a blacklist so record and film companies can target legal action, rules published today reveal.
Ofcom has opened consultation on a draft of the code of practice for enforcing the Digital Economy Act's (DEA) copyright enforcement regime. The new government currently has no plans to alter the DEA.
Under the proposals, the three accusations of unlawful filesharing will not have to come from the same source, but once three are made, any of the organisations that made accusations can apply for a court order to reveal their identity. A person accused of separately infringing a film, a music and a software copyright could be sued by either FACT, the BPI or FAST.
ISPs will be required to keep a record of accusations for a year from when they are made, so a filesharer who gets only two in a 12 month period won't be blacklisted. Meanwhile rights holders must pass their evidence - likely to comprise an IP address, time stamp and filename - to ISPs within 10 days of being collected.
The code of practice confirms our report 10 days ago that initially only ISPs with 400,000 or more subscribers will be required to comply with the rules, which are scheduled to come into force on 8 January. That means at first BT, Talk Talk, Virgin Media, Sky, Orange, O2 and Post Office subscribers face warning letters each time they are accused of a copyright infringement.
KC, part of the KCOM Group, has a monopoly on fixed-line internet access in Hull, but fewer than 400,000 customers, so its proposed that at least initially it will not have to comply with the code.
Ofcom said that if subscribers elsewhere migrate to smaller ISPs to escape scrutiny, it will review whether to bring them under the regime. As expected, mobile broadband providers are also exempt for now.
If warning letters do not "significantly reduce" unlawful filesharing in a year, technical measures such as protocol blocking or temporary suspension of access will be introduced.
Each warning letter - at a maximum rate of one per month - will offer information about the appeals tribunal, an independent body that will hear claims from those who believe they are falsely accused. Individuals will remain anonymous at the tribunal and only written submissions will be accepted, Ofcom said.
If the tribunal finds in the ISP customer's favour, rights holders and ISPs can be ordered to pay compensation and reasonable costs.
The proposed code of practice is here (pdf). ®
Bootnote
Ofcom has provided this graphic detailing its timetable for DEA implementation.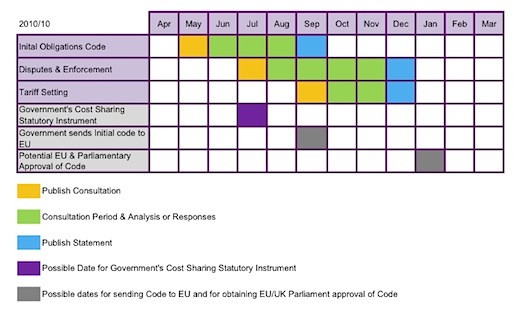 The code also include sample notification letters. This is the third one, telling the user they have been put on the blacklist and their details are available to rights holders via court order.
Third Notification – for illustrative purposes only
Dear ####
PLEASE DO NOT IGNORE THIS LETTER - YOU MAY BE ADDED TO A COPYRIGHT INFRINGERS LIST AND RISK LEGAL ACTION BEING TAKEN AGAINST YOU: Third notification of online copyright infringement associated with your internet connection
We sent you a second notification on [insert date of second notification] following a report that your internet connection had been used to illegally share copyright material on a peer to peer network. Since then, we have been sent a further report from a copyright owner about the unlawful sharing of copyright material, which again matches to your internet account.
This is now your third notification. This means you may now be included in a 'copyright infringement list'.
Information on how this copyright infringement list is generated is set out in the enclosed factsheet. Being included on such a list would raise the prospect that a relevant copyright holder may use it, apply to court to find out your identity and then take legal action against you to seek damages.
It is very important you give this matter urgent and full consideration.
As before, we have enclosed a factsheet on online copyright infringement which includes information on:
What can happen to subscribers who are sent a third notification and then end up being included on a copyright infringement list; and
Further sources of advice and the action you could take – such as steps to prevent your connection being used to share copyright content illegally.
We also enclose information about the recent report we have received which sets out:
The copyright owner who has reported the suspected activity;
The copyright material which the owner believes was unlawfully shared; and
The evidence gathered by the copyright owner (including the internet protocol address and its date/time, which we have linked to your account). [We have also received x further CIRs against your account since your last notification (bringing the total we hold about you to y). If you would like information on these additional CIRs including details of the copyright owner making them, then please contact us on ####.]

You do have the right to appeal this letter and the report, so our factsheet contains information on how you could do this. You can also call a helpline on #### if you have any questions about this letter.

We sincerely hope that you are now able to resolve the issue by taking swift and appropriate action.

Thank You