This article is more than 1 year old
Coming soon: Live Vulture 1 GPS tracking test
Join us as PARIS takes to the air
Next week sees the Paper Aircraft Released Into Space (PARIS) programme take to the air for the first time, as we test the Vulture 1 GPS unit.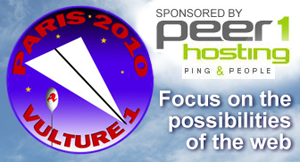 The lightweight air-to-ground comms package (more details here) has been designed by radio man Steve Daniels (callsign G6UIM) to fit snugly inside our paper plane. It transmits a signal which is picked up by a radio transceiver, fed onto a laptop and broadcast live to an expectant world via the APRS system.
We've been able, with a bit of jiggery-pokery, to suck that APRS data for injection into a Google map on El Reg. We're obliged to the chaps down at Finnish APRS site aprs.fi for providing invaluable assistance with that.
The map will be available next week for your live viewing pleasure, offering once-a-minute positional updates of both the GPS (callsign PARIS-6), and the position of Steve's transceiver (callsign G6UIM-12). The latter won't be moving for this test, but when the time comes it will enable everyone to follow the Vulture 1 pursuit vehicle as it chases the plane.
We used a similar map set-up for our main payload GPS tracker test earlier this month, and here's the result:
Next Wednesday, the PARIS team is off to meet Steve in Devon, and at roughly 2pm, the test will begin. For the radio buffs out there in the Exeter area, the GPS unit will (probably, assuming there's no interference which requires a tweak), be transmitting on 433.950. We'll give you a heads-up at around 1.30pm by posting a story containing the map on El Reg.
Of course, you're all wondering just how we intend to get the unit airborne. That's currently classified, but all will be revealed in due course... ®
Additional PARIS resources
Our dedicated PARIS section, with all previous updates, is right here.
New to PARIS? We have a basic mission summary here (pdf).
Check out our YouTube channel - currently featuring a few camera tests.