This week's celebration of 25 years of .com promised to be a step above the usual incestuous industry award shows.
For one, it was designed to honor the 25 biggest pioneers of the online world – people who in some cases have reached beyond the IT world and entered mainstream awareness – the Internet's rock gods.
There was Steve Jobs, Jeff Bezos, the Google Boys, Tim Berners-Lee, Vint Cerf, Bill Gates, Shawn Fanning, Mark Zuckerberg and so on.
Adding to the occasion was the fact it was held in San Francisco's grand City Hall – an honor that Mayor Gavin Newsom added to by officially declaring May 26 2010 "Dotcom Day" (VeriSign's CEO has the certificate to prove it).
Comedian Dana Carvey as MC clearly felt the potential for a big event. "Is the mayor here?" he asked. Sadly not. "Is President Obama here?" It was possible – Air Force One had been parked at San Francisco airport, and the President was doing a series of fundraisers in town.
Fortunately, Carvey stopped there and moved into his routine. Fortunate because if Carvey had run down the list of people being honored tonight, he would have received 24 Nos and only one Aye.
Scott McNealy was that one aye, and he took the stage to jokingly provide 10 reasons why we *shouldn't* be celebrating the Internet. As McNealy himself pointed out: since he was no longer representing any company, he could do pretty much what he wanted – and in this case, that meant attending a Dotcom Gala rather than trying to get an audience with the President.
To give McNealy his due, he was pretty funny, although clearly still smarting from Sun's buy-up and shutdown by Oracle. It's been over a year, but Scott couldn't help but bitterly reflect on what could have been, especially since Sun's achievements were being celebrated.
With spaces on the top tables and even more at the back (we estimate more than 50 of the 300 or so places were unfilled), it fell to ICANN chairman Peter Dengate Thrush to not once but twice take the stage to present awards.
VeriSign improvised by running videos of the honorees culled from online clips and handing out awards to a different set of pioneers – the biggest registrars, all of whom had been good enough to attend. GoDaddy, Dotster, Tucows, and so on.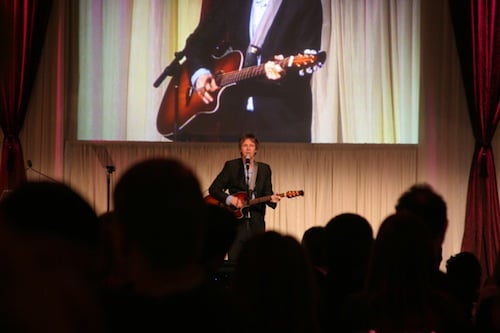 Host Carvey was clearly expecting a little more showbiz, asking the audience: "What does ICANN even stand for? Internet Association for Network…?" Clearly enjoying Peter Dengate Thrush's name ("James Bond's ultimate nemesis"), Carvey then embarked on a song detailing the sexual exploits of ICANN's chairman with, among others, Mayor Newsom, with Peter using the name of his organization, exclaimed out loud, to maintain his vigor.
Fortunately, Domain Name Wire's editor Andrew Allemann was there to capture the song for posterity.
And then, with a limp re-announcement of four research grants for $75,000 each, it was over. A sad ending to what was very nearly a glorious evening of celebration.
Perhaps this is ultimately fitting. After all, ICANN chairman is responsible for opening the doors to hundreds, perhaps thousands, of new dot-coms next year. The Dotcom name will never again be as powerful as it is now in May 2010.
The steak and veg were very nice. ®
Similar topics