DIY
Comic fans with digital archives of out-of-print material from previous decades have a number of ways of getting scans onto the iPad.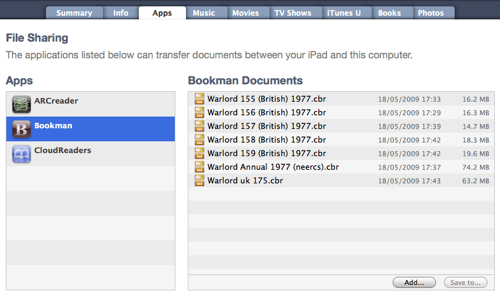 Some apps can use iTunes to transfer comics to your iPad
Free apps like Bookman, CloudReaders and ARCreader, and paid-for equivalent Comic Zeal Reader, can all handle PDF files and ZIP archives, plus the comic-specific CBZ and CBR compressed container formats - ZIP and RAR archives, essentially.
All of these maintain their own filestores on the iPad. When you connect the device to your computer, run iTunes and go to the iPad's Apps tab. There, down at the bottom of the page, is a file-transfer panel - just drag and drop the comics you want to load up.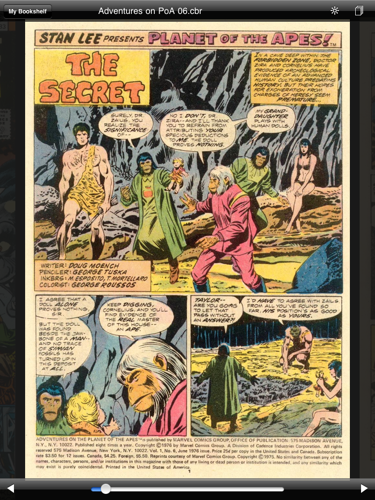 Read your out-of-print titles on the right-size screen
ARCreader is the more polished of the free titles, but for me lacks the ability to swipe from page to page - you tap the right or left of the page to turn to the next or previous page. The more basic CloudReaders does let you swipe from one page to the next, and has the novel ability to start at the back and work forward, essential for Japanese readers.
If you don't keep your pages in archives, you can load them into the iPad's Photos app using the appropriate tab in iTunes. The flaw here is that pages can sometimes appear out of order, so I store my comics in iPhoto, loading each issue's folder as a new Event, with Events' folders set to be ordered by filename.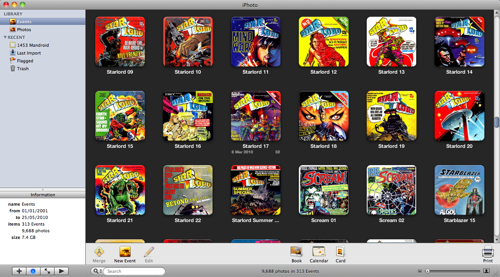 Mac users can put iPhoto to work organising issues
In the iPad's Photos app, list pictures by Event and you have piles of issues you can tap and and read through, swiping from one page to the next, and rotating the iPad when you get a landscape spread. ®
Similar topics